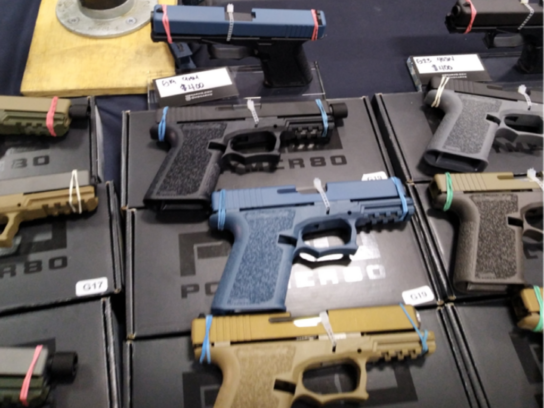 Ghost guns are banned in Maryland. The law, which goes into effect June 1, passed Friday without Gov. Larry Hogan's signature.
"I am allowing legislation regarding untraceable firearms to take effect without signature. It is a positive step as we seek to stem the tide of violent crime – but it does nothing to penalize those who actually pull the trigger on firearms," he tweeted Friday.
Ghost guns are unfinished guns that are easy to obtain and assemble. They are not registered, carry no serial number, and require no background check to purchase. Therefore, they are untraceable.
They have become prevalent in Montgomery County. On Wednesday, Nafees Muhammad, a 16-year-old Clarksburg High student, was found with three kits used to produce guns. In February, a Silver Spring man was sentenced to nine months in jail for having a ghost gun at Burnt Mills Elementary School.
Between 2019 and 2021, police in Montgomery County saw a five-fold increase in the use of ghost guns, according to Maryland State's Attorney for Montgomery County John McCarthy.
In 2019, Montgomery County Police confiscated six ghost guns. In 2020, the department recovered 73 of these guns, which are made of plastic and can bypass metal detectors.
Montgomery County Council President Gabe Albornoz is "disappointed the Governor did not sign it. This legislation is common sense. It is a bipartisan issue." Ghost guns "are a danger to everyone. These guns, these weapons, are getting into the hands of our young people," Albornoz said.
While he is glad the legislation was adopted, "I would hope moving forward that he would appreciate the importance of this," Albornoz said, referring to Hogan.
Maryland Sen. Susan Lee from District 16 and Del. Lesley Lopez from District 39 were instrumental in moving this bill through the General Assembly. After learning the bill would be enacted, Lopez tweeted, "Wow, team! Our ghost gun ban will go into effect and it is because of the broad, bipartisan coalition of support for this life-saving, common sense bill! Thank you to everyone who worked to see this day come!!"
While not placing his signature on the legislation, Hogan did call violent crime "the most urgent issue facing Baltimore City – and the most pressing concern for Marylanders." He tweeted that he preferred action be taken to emergency legislation he said would hold violent criminals accountable.
Montgomery County previously enacted its own ban restricting the possession, use, sale and transfer of undetectable guns to minors. That legislation also bars ghost guns within 100 yards of places of public assembly and prohibits making ghost guns with a 3D printer when in the presence of a minor.
Wow, team! Our ghost gun ban will go into effect and it is because of the broad, bipartisan coalition of support for this life-saving, common sense bill! Thank you to everyone who worked to see this day come!! https://t.co/uRECAAHufc

— Del. Lesley Lopez (@LesleyJLopez) April 8, 2022
It is official!! Governor Hogan is allowing SB387/HB425 to pass into law!! Thanks to all who made this happen! pic.twitter.com/ML03f9NyIc

— Marylanders to Prevent Gun Violence (@gunviolenceprev) April 8, 2022
I have informed the General Assembly that I am allowing legislation regarding untraceable firearms to take effect without signature. It is a positive step as we seek to stem the tide of violent crime—but it does nothing to penalize those who actually pull the trigger on firearms.

— Governor Larry Hogan (@GovLarryHogan) April 8, 2022
Related Post
Maryland House Passes Bill Banning Ghost Guns; Sen. Lee: 'It's Now up to Governor Hogan'