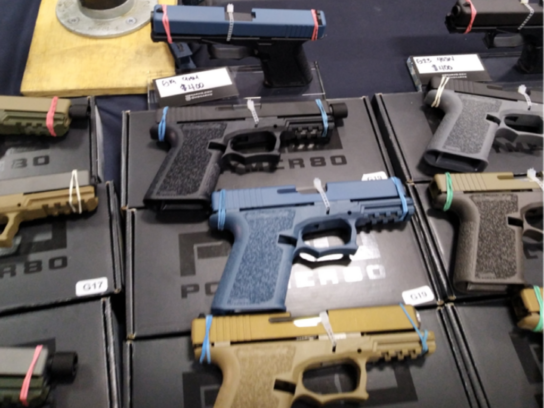 The Maryland General Assembly passed a bill on Tuesday banning ghost guns in Maryland. 
Senate Bill 387 prohibits gun owners and manufacturers from purchasing, receiving, selling, offering to sell or transferring untraceable or unfinished guns unless the firearm has been registered with the Secretary of State Police. This legislation will require firearms manufactured after October 22, 1968 to be imprinted with a serial number. 
"These untraceable firearms have become the weapon of choice for criminals. They are easily purchased over the internet without a background check, making them easily accessible to children, violent felons, domestic abusers, and others who are ineligible to own a firearm," Maryland Attorney General Brian Frosh said. "This bill closes a loophole that makes it difficult for law enforcement to do its job and creates a terrible public safety threat. This legislation will save lives."
The bill sponsored by Sen. Susan Lee (D-16) and Delegate Lesley Lopez (D-39) will now go to Gov. Larry Hogan's desk for final approval. 
"The MD Legislature has done all it can to protect Marylanders from ghost guns – it's now up to Governor Hogan to make it happen. We can't wait another year," Lee wrote in a tweet. 
After the final House vote of 92-41 Tuesday, Lopez said the vote looked to her like "4 years of hard work to become a firearms expert, hours of testimony from survivors, dozens of Zooms to build coalitions, [and] 1000s of grassroots emails."
Montgomery County Council President Gabe Albornoz recognized and thanked the members of the Maryland General Assembly for the passing of the bill. 
"I would like to extend my deepest gratitude to our dedicated legislators in Annapolis who voted today to pass Senate Bill 387, which closes a dangerous loophole that makes it difficult for law enforcement to protect the public and addresses the epidemic of gun violence by banning ghost guns statewide," Albornoz said. 
Between 2019 and 2021, Maryland State's attorney for Montgomery County John McCarthy said county police saw a five-fold increase in the use of ghost guns. 
The Montgomery County Council unanimously passed Bill 4-21 known as the Ghost Guns Bill in April 2021. This legislation prohibits access to ghost guns by minors within 100 yards of places of public assembly and the making of a ghost gun with a 3D printer when in the presence of a minor.  This bill in particular, was geared to keeping ghost guns away from minors rather than regulating them— which can only be done at the state and federal level. 
"I pledge to continue doing everything within my role as a councilmember to work collaboratively with our state, federal, law enforcement and community partners to put forth commonsense measures that will protect all Montgomery County residents," Albornoz said.