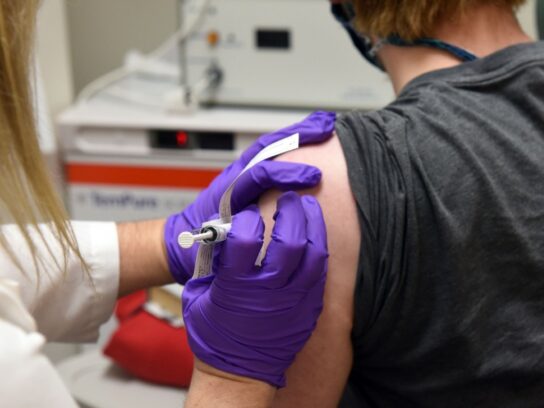 County Executive Marc Elrich on Wednesday said he hopes to work with the county council to come to a solution regarding a proposed COVID-19 vaccine mandate for county employees, without jeopardizing public safety operations – a concern shared by public safety leaders.
"I took an oath to protect the health, safety and welfare of the residents of the county and it would not be responsible to not consider threats to public safety in making a decision like this," Elrich said during a virtual media briefing. Last month, Councilmembers Hans Riemer and Will Jawando introduced a bill that would require all county employees to be fully vaccinated against COVID-19 or face losing employment, with exemptions for medical reasons.
During a council meeting Tuesday, public safety union representatives and police officers testified against the bill, citing staffing and operational risks. Assistant Chief Administrative Officer Dr. Earl Stoddard also testified on Elrich's behalf. See the Public Safety Risk Assessment for the bill based on responses from county departments.
Ahead of Tuesday's public hearing, Riemer said he is disturbed Elrich is using "scare tactics" about the impact of a vaccination requirement instead of standing strong against anti-vaccine resistance.
"It's not a scare tactic," Elrich said Wednesday. "I didn't know what the answer was going to be to the question. I just asked the departments to tell us."
"We must go beyond political games being played here and we need to come up with some serious solutions and not just say 'Well I don't believe the numbers are right,' because what if the numbers are right? It's going to be hard to bring people back after we fire them," Elrich said.
He said he hopes to work with the council to find a strategy that will maximize vaccinations without creating a serious public safety shortage.
Riemer said many county employees take residents to the hospital, give live-saving healthcare and many are transporting people who may have serious symptoms. He referenced an example of a health system leader who dismissed employees refusing to get vaccinated and stood by his decision.
"And that's leadership. I wish we had that here," Riemer said.
Jeffrey Buddle, President of the Montgomery County Career Fire Fighters Association (IAFF Local 1664), opposed the bill Tuesday and said Montgomery County Fire and Rescue Service (MCFRS) is at a breaking point with staffing. He said MCFRS estimates the department could lose about 100 firefighters if the bill passes. According to Stoddard, MCFRS reported they would have to reduce services if the department lost even 2% of staff, or about 25 employees.
The Montgomery County Police Department (MCPD) has seen a significant increase in resignations over the past several months due to labor unrest and the current political environment, said Lee Holland, Corporation Vice President of MCPD union Fraternal Order of Police Lodge 35. This poses additional challenges because 25% of the department is eligible to retire. Recent polling showed about 300 officers are considering leaving the force if the bill passes, Holland said.