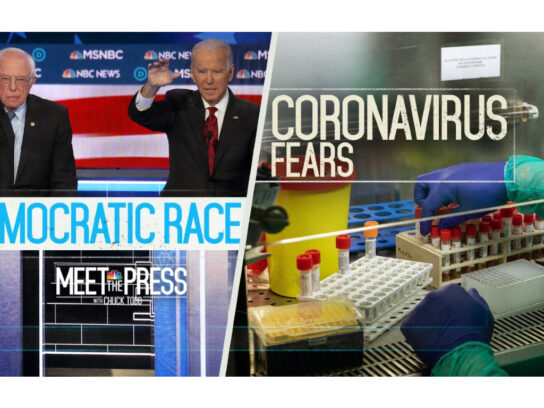 Maryland Gov. Larry Hogan went on Meet the Press this morning, striving to reassure residents that while the number of people with coronavirus is "escalating so rapidly," state and federal officials are dealing with it as best they can and that more testing kits are becoming available every day.
"At this point in time, we have the necessary resources," Hogan said, adding the state is about to double the number of testing kits available.
"This is escalating so rapidly," on an hourly basis, the Governor said on national television.
When asked how he believed the Trump Administration was handling the issue, Hogan praised Vice President Mike Pence for leading the national effort and said he had met with Pence the other day.
However, Hogan said Trump did not communicate to the public "the way I would have liked him to."
According to the Maryland Department of Health, 52 people have been tested for COVID-19 and three have tested positive, including an elderly couple in their seventies and a woman in her fifties.
All three live in Montgomery County and traveled on a cruise along the Nile.
Dr. Anthony Fauci, director of the National Institute of Allergy and Infectious Disease in Bethesda, also appeared on the show and noted that 1.1 million testing kits were sent to private labs recently and he expects that number to rise dramatically by the end of next week.
While a vaccine will not be ready for at least 12 to 18 months, Fauci said two things could mitigate the spread. People who have tested positive for the virus or think they have it need to quarantine themselves, which should stem the spread, he said.
Also, he said it was possible that as the seasons change, coronavirus could slow down.
"We hope this just goes away, like SARS (Severely Acute Respiratory Syndrome) did," he said.
Throughout his appearance, Fauci emphasized if people are vigilant, they shouldn't be overly concerned.
However, he advised those who have been in contact with someone with the virus, those who are elderly or anyone with an underlying medical condition to stay away from crowds, not travel by plane and definitely not go on a cruise.
"Think twice" about flying, he advised the elderly or those with medical conditions, "and not only think twice, don't get on a cruise ship," he said.
He admitted it was "not encouraging that we are seeing community spread" and that the longer this occurs, the harder it is to trace everyone sufferers have been in contact with.
Those more likely to come down with COVID-19 should practice "social distancing" and not go to into crowds, Fauci advised.