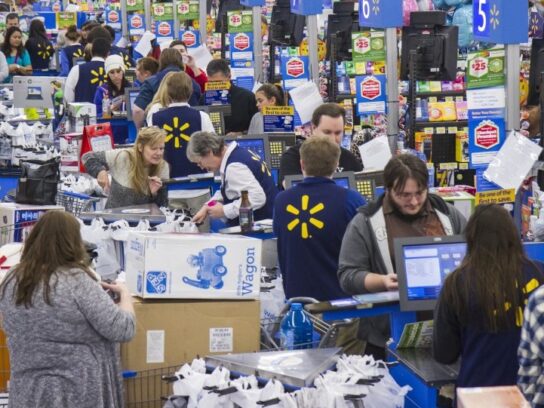 Walmart CEO Doug McMillon sent a memo to employees this week announcing cutbacks to gun sales and ammunition in stores.
"We've also been listening to a lot of people inside and outside our company as we think about the role we can play in helping to make the country safer. It's clear to us that the status quo is unacceptable," the memo reads.
In the memo, titled "Next steps in response to the tragedies in El Paso and Southaven," McMillon referenced last month's shooting that killed 22 people in a Walmart in El Paso, Texas. He also brought up another Walmart shooting in Southaven, Mississippi, that killed two employees, as well as recent shootings in Dayton, Ohio, and Midland and Odessa, Texas. 
McMillon announced that his stores will discontinue selling handguns in Alaska, the last state that still sold them in Walmart. This marks the end of Walmart selling handguns in any of their stores across the country. The corporation will sell remaining inventory and then discontinue handgun ammunition. 
Walmart will also sell their remaining stock then discontinue short-barrel rifle ammunition, which is used in hunting rifles but can also be used in military-style weapons.
The corporation will continue to sell long-barrel deer rifles and shotguns, as well as other types of ammunition. Not all Walmart stores sell firearms and ammunition, but guns are sold in about 3,900 stores, according to CNN Business. 
Walmart does not sell automatic rifles. They stopped selling semi-automatic rifles – like the AR-15 used in many mass shootings – in 2015.
Also in the memo, McMillon requested that people stop openly carrying guns in Walmart stores, but said concealed carry with a permit is fine. 
"We want what's best for our customers, our associates and our communities. In a complex situation lacking a simple solution, we are trying to take constructive steps to reduce the risk that events like these will happen again. The status quo is unacceptable," the memo concludes.