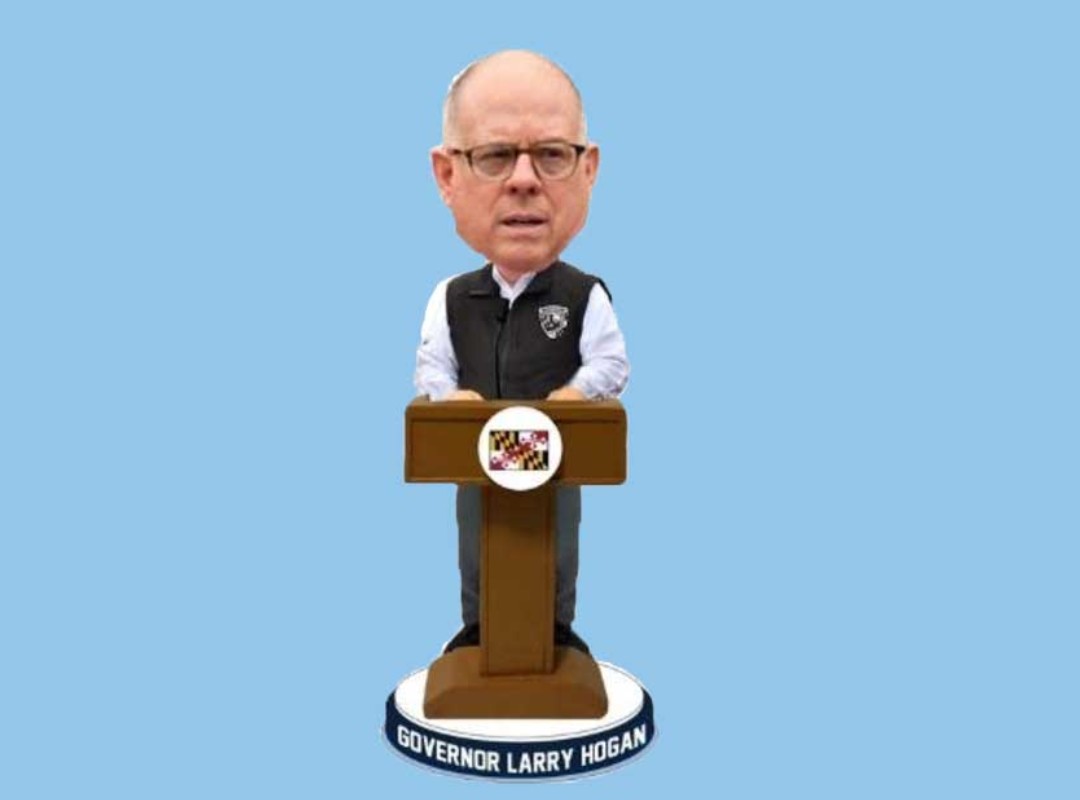 Gov. Larry Hogan Gets His Own Bobblehead
Larry Hogan is one of the latest governors to get their own bobblehead. The National Bobblehead Hall of Fame and Museum unveiled Hogan's bobblehead this week.
The figure presents a 7-inch Hogan behind a podium, with a Maryland state flag printed at the front.
The museum will donate $5 from every governor bobblehead sold to the American Hospital Association's Protect the Heroes Campaign to support the 100 million Mask Challenge. The challenge aims to increase production and distribution of personal protective equipment to health care workers across the United States, according to the organization's website.
Each bobblehead costs $25 plus a shipping fee of $8 per order, according to a museum press release. The bobbleheads are expected to be delivered in January of 2021.
Along with Hogan, New Hampshire Gov. Chris Sununu, Minn. Gov. Tim Walz, and Mass. Gov. Charlie Baker bobbleheads were also unveiled Thursday.
But the museum also sells bobbleheads of other public figures, like Dr. Anthony Fauci, Justice Ruth Bader Ginsburg, and vice-president Mike Pence, featuring a fly on his head as a reference to the latest debate.
Since April, the donations from bobbleheads have raised over $275,000 for the Protect the Heroes fund.
The museum received a lot of requests to make bobbleheads of those governors, National Bobblehead Hall of Fame and Museum co-founder and CEO Phil Sklar said. Those governors played "instrumental roles" against the coronavirus pandemic, according to the museum's website.
"During these unprecedented times, we want to continue to raise funds for an amazing cause while putting a smile on people's faces with bobbleheads," Sklar said.