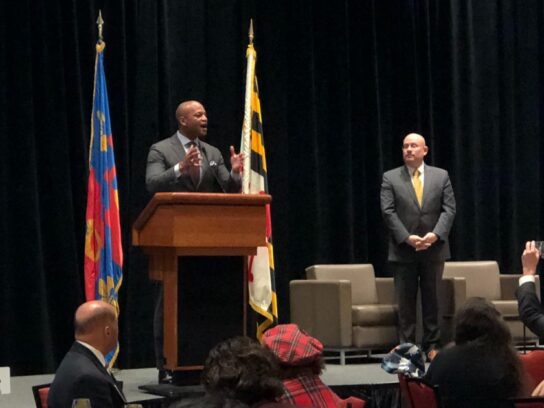 Elected officials and local organizations representing minorities gathered Thursday morning at the Bethesda North Marriott Hotel and Conference Center for the 22nd annual Minority Legislative Breakfast, which was back in-person after three years.
The annual event is hosted by the African American Chamber of Commerce of Montgomery County (AACC-MC), the Asian American Political Alliance (AAPA) and the Hispanic Chamber of Commerce Montgomery County (HCCMC). 
"In this next decade we have got to close this racial wealth gap," said Maryland Governor-elect Wes Moore.
"It is not hurting one group, it is hurting the entire country. Maryland must lead and close this racial gap," he said. Moore will be Maryland's first Black governor. He noted Lt. Governor-elect Aruna Miller is the first woman of color elected to her position.
The Minority Legislative Breakfast is a forum for legislators to discuss priorities related to minority communities. This year, priorities focus on three areas of concern: climate change, public safety and mental health, said HCCMC President Carmen Larsen. Other 2022 priorities include housing and work opportunities, economic growth and protecting an inclusive community.
Moore said that in partnership, leaders will make sure to invest in mental health supports for children, educators and paraeducators. He said public safety will be prioritized, and "making sure we can get and keep these illegal guns out of our neighborhoods and out of our streets." 
Moore said Maryland must lead on climate change. U.S. Rep. Jamie Raskin (D-8) also mentioned the topic, saying, "We are going to continue to make progress on climate change."
County Executive Marc Elrich said the county needs to build affordable housing with ownership opportunities for people. He said nonprofits, which help with affordable rentals, need to start thinking about ownership.
Elrich said funding education, particularly early childhood education, is important as well. He mentioned a new research institute coming to North Bethesda in partnership with the University of Maryland, Baltimore, the University of Maryland, College Park and the University of Maryland Medical System.
Council President Evan Glass said more work needs to be done for economic development. He noted the council added a new standing committee dedicated to the topic.
"The next two years, in addition to continue to push for the things we all want to advance, we've got a lot of work to do working with the governor, lieutenant governor and others to make sure that what Congress did in the last two years… that we put those funds to work making sure we build that economy that includes everybody," said U.S. Sen. Chris Van Hollen (D-Md).
22nd annual Minority Legislative Breakfast happening now. @mymcmedia pic.twitter.com/99oAWI53dZ

— Maryam Shahzad (@maryam_mcm) December 8, 2022