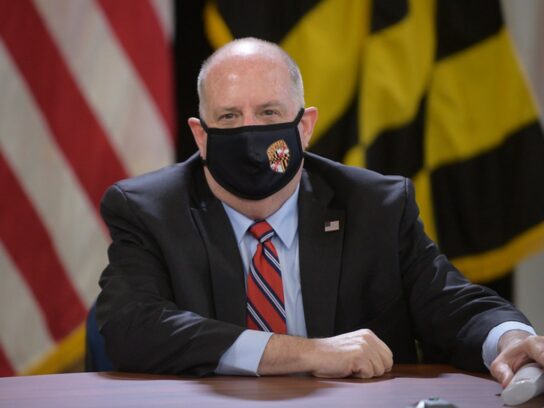 Gov. Larry Hogan voted for Ronald Reagan by-mail last week, The Washington Post reported Friday.
Hogan wrote-in the late president's name because he wanted to make a statement, according to The Post. This isn't his first write-in either, as Hogan voted for his late father in 2016. Larry Hogan Sr. passed away in 2017.
Evidently the Republican governor is a big fan of the conservative Reagan, telling The Post, "Reagan was the guy." Hogan said he is guided by the late-president's ability to win over conservatives as well as blue-collar Democrats. He has criticized President Donald Trump for doing the opposite and causing more divisiveness between parties.
Hogan has not always supported Trump despite sharing the same political party. In July 2019 when Trump was blasting now-late Rep. Elijah Cummings and bashing Baltimore, Hogan called the comments "outrageous and inappropriate" during an interview with WBAL NewsRadio. In Oct. 2019, Hogan said he supported an impeachment inquiry of Trump in an interview for PBS's "Firing Line."
In June, Hogan knocked Trump's treatment of people during Black Lives Matter protests. Hogan referenced June 3, when protestors were tear gassed to make way for Trump to have a photo op in front of St. John's Episcopal Church. He compared it to Maryland's approach to protests in Baltimore, where Hogan said there were no altercations with police and no violence.
"I think our approach is better," Hogan said during a June press conference.
Most recently last week, Hogan was one of four Republican governors who did not sign a letter calling on the Senate to confirm Judge Amy Coney Barrett to the Supreme Court. Barrett was obviously nominated by the president, who is pushing to have her confirmed before the November election. During an interview for The Texas Tribune Festival in September, Hogan said, "It would be a mistake for the Senate to ram through a nominee before the election on a partisan line vote, just as I think it would also be a mistake for the Democrats to question the integrity of the court … or try to pack the court."
Trump took aim at Hogan in April after Maryland First Lady Yumi Hogan and the governor obtained 500,000 COVID-19 tests from South Korea, where the first lady immigrated from.
"I don't think he needed to go to South Korea, I think he needed to get a little knowledge would have been helpful," Trump said during a press briefing.
During the briefing, Vice President Mike Pence showed a list given to governors of facilities where, according to The White House, states could find coronavirus testing. However in an interview with Wolf Blitzer on CNN, Hogan said more than half of the facilities were either federal or military, which made them unusable.
The Post's report stirred the Twitter pot. See some reactions from state politicians:
Just to be clear, a vote for someone who isn't running IS a vote for Donald Trump.

Hogan doesn't like Trump, but he can't bring himself to vote for a Democrat. Because he's partisan to his core. https://t.co/scH6l1WTxI

— Delegate Eric Luedtke (@EricLuedtke) October 16, 2020
This is complicated. In 2016 he voted for Larry Hogan, Sr, who was then still with us. But now he has gone over to Reagan. Maybe Lincoln for a runningmate? https://t.co/O4WSDt5Jcn

— Marc Korman (@mkorman) October 16, 2020
How it started: How it's going: pic.twitter.com/7zehuAy7XW

— Vaughn Stewart (@DelegateStewart) October 16, 2020
The political coward's way out.

To paraphrase @Lin_Manuel, "'If you stand for nothing, @GovLarryHogan, what'll you fall for?' https://t.co/xP2ntPtHue

— Kirill Reznik (@DelegateReznik) October 16, 2020