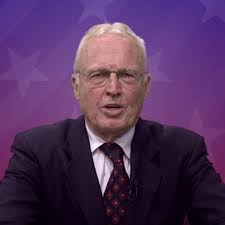 Robin Ficker of Poolesville was disbarred Thursday by the Maryland Court of Appeals for what Judge Robert McDonald called a failure to comply with elementary standards of the legal profession. Brooks Dubose from the Capital Gazette was the first to report the story.
But Ficker, who currently is running for governor of Maryland on the Republican ticket, told My MCM that the charges, and the timing of the charges so close to the primary election, are political.
Ficker, who is a former state legislator, was disciplined for professional misconduct eight times, according to McDonald's opinion. "While a missed court date by an over-scheduled attorney who relies on office staff to meet the demands of a busy schedule or a good faith fumble in the filing of a continuance motion would not typically result in disbarment, the circumstances of Mr. Ficker's cases are far from typical," McDonald wrote.
"The process must come to an end. Mr. Ficker has forfeited the privilege of practicing law in Maryland and will be disbarred," McDonald ruled.
Ficker has been both publicly and privately reprimanded and received an indefinite suspension previously, according to the court record.
In the case that McDonald considered the final straw, Ficker failed to appear for a trial in District Court in Prince George's County and made contradictory statements.
Ficker said that was a three-year-old case of driving without a license in which the suspect did not appear, and "They are blaming the attorney, come on."
The disbarment was "a political decision. They are political appointees," he said, adding, "Most judges don't like defense attorneys as it is." He speculated that the court was annoyed that he recently won a case in Calvert County that changed the rules for political signage.
Ficker said he could apply for reinstatement but won't in the near future. He is a licensed real estate agent in Maryland, and "There is a hot market now," he said. Also, running for governor is taking up time, he said.
"All you can do is light a candle. I am not going to curse the darkness."
Robin Ficker, the mystifying former delegate who's run for numerous state and local offices and became famous for heckling opposing teams at Bullets games in the 90s, was disbarred yesterday by the Maryland Court of Appeals for professional misconduct. https://t.co/k4qp9uHsCE pic.twitter.com/NpDzV5ZsQd

— Brooks DuBose (@b3dubose) March 4, 2022