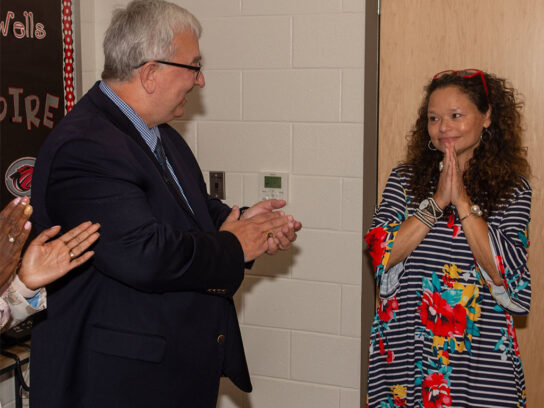 Madeline Hanington, a staff development teacher at Hallie Wells Middle School in Clarksburg, is a finalist for the 2019-2020 Maryland Teacher of the Year Award.
Hanington, named the 2019-2020 Montgomery County Public Schools' Teacher of the Year in April at the annual Champions for Children celebration, is continuing to earn recognition as an educator, as the Maryland State Department of Education has selected her and six other Maryland educators as finalists for the prestigious award.
MCPS Superintendent Jack Smith surprised Hanington with the news on Thursday.
After learning she was a finalist, Hanington told MCPSTV—one of MyMCMedia's PEG partners—that she was surprised by the news.
Today, @HallieWellsMS educator Madeline Hanington was named a finalist for the 2019-2020 Maryland Teacher of the Year! https://t.co/cB1i11qHQE pic.twitter.com/yRXtCsRcXa

— MCPS (@MCPS) September 5, 2019
"I am representing so many hardworking teachers and Hispanic females and I want them to know that they can do anything they dream of doing," Hanington said.
The other educators competing are from six other Maryland school districts: Teresa Beilstein is from Anne Arundel County; Brandi Jason is from Carroll County; Jossie Perry is from Cecil County; Michael Franklin is from Frederick County; Paige Milanoski is from Harford County; and Joshua Edwards is from Washington County.
Maryland's Teacher of the Year will be named on October 25 at a gala reception dinner in Baltimore. Winners receive cash awards, travel opportunities, technology equipment, and a new car—donated by the Maryland Automobile Dealers Association—valued around $25,000.
Very proud of Ms. Hanington. She ignites a passion for learning in all she meets. Proud to have her as a colleague. @makjoshie https://t.co/IrI0zu507i

— HallieWellsMS (@HallieWellsMS) September 5, 2019
MCPS describes Hanington's teaching style as "dynamic, challenging, innovative and nurturing" and says her approach has been proven effective through data. Hanington created and implemented academic intervention programs, which resulted in Maryland State Assessment scores increasing around 5%.
MCPS says Hanington not only serves as a mentor to Hallie Wells English teachers, but she also has been supportive to staff from other schools. In 2011, Hanington won the Milken Educator Award.
She's involved in advising the student body and is a co-sponsor of the Junior National Honor Society as well as the Lady Scholars program at Hallie Wells—an after-school program that helps young women achieve their highest potential.
Previous Posts:
Hallie Wells Educator Receives MCPS Teacher of the Year Award