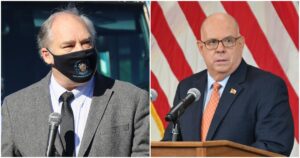 Gov. Larry Hogan has called on the Maryland school board to rescind its school masking policy in light of improving COVID-19 metrics and vaccine availability. 
"We must all learn to live with this virus, not in fear of it," Hogan wrote in a letter to the state Board of Education on Thursday. During a media briefing in the afternoon, County Executive Marc Elrich said the state should wait for health metrics to continue improving until jurisdictions are no longer in CDC-defined high COVID-19 transmission.
"He should be patient," Elrich said. "Trends are good, the trends are very good. We are likely to be out of high transmission in the not too distant future. But we've not yet returned to even a level of moderate transmission." Elrich said he would have been happier if Hogan said school systems can decide to lift mask requirements as they hit moderate transmission county-by-county.
"I'm confident we're going to get there. I don't believe anybody will be unduly harmed by waiting another couple of weeks and wearing a mask," Elrich said. COVID-19 hospitalizations in the county are decreasing and Montgomery County Public Schools (MCPS) officials said cases have significantly decreased since classes resumed in January. However, the county remains at a level of high community transmission according to the CDC. 
The county's indoor mask mandate, passed by the council sitting as the Board of Health, is set to expire Feb. 21 at 11:59 p.m. Officials are not anticipating additional extensions to that timeline, said Assistant Chief Administrative Officer Dr. Earl Stoddard. He emphasized the county's mask mandate does not influence masking in schools.
Stoddard explained the process of potentially lifting the mask mandate in MCPS.