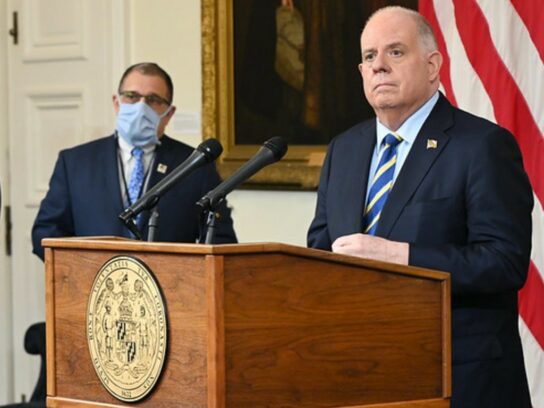 Gov. Larry Hogan announced Thursday that Maryland will enter Phase 2 of its vaccination plan on Tuesday, March 23.
Under Phase 2A, all residents ages 60+ will be eligible, Hogan said during a press conference Thursday. Effective immediately, all Marylanders ages 60+ can preregister for an appointment at a mass vaccination site. One week later on March 30, Maryland will move into Phase 2B; eligibility will open to all residents ages 16+ with underlying medical conditions that increase their risk for severe COVID-19. Maryland will enter Phase 2C on April 13, Hogan said, and all Marylanders ages 55+ and essential workers of all ages in critical industries will be eligible. Those industries include food service, construction, financial services, IT and more.
Finally, Hogan said COVID-19 vaccine eligibility will open to "every single Marylander" ages 16+ no later than April 27. The governor stressed that even though the state is moving into Phase 2, everyone eligible under Phase 1 who has not been vaccinated will continue to be prioritized at mass vaccination sites.
See the state's accelerated vaccine distribution timeline here.
Gov. Hogan says Maryland will enter Phase 3 of vaccinations no later than April 27.

Every single Marylander ages 16+ will be eligible. @mymcmedia https://t.co/IKBQtWWqwp

— Maryam Shahzad (@maryam_mcm) March 18, 2021
"I also want to continue to remind Marylanders that just because you become eligible for a vaccine, does not mean that you can immediately get a vaccine and that we can't schedule appointments for vaccines that we don't have or that don't yet exist," Hogan said. He told reporters Tuesday that during a call with the White House COVID-19 team, he learned that states will not see an increase in vaccine supply for two weeks, but beginning March 29 states will see a "fairly dramatic increase" in doses.
On March 4, the Montgomery County health department began offering vaccinations for its Priority Groups 1B, tiers 2 and 3 and Group 1C, tier 1. Eligible groups can preregister for a vaccine appointment here. County vaccination clinics operate separately from community-based providers; the county does not manage vaccinations at retail pharmacies or hospitals.
Also at Thursday's press conference, Hogan announced a pilot program that gives vaccine doses directly to primary care practices. It will include 37 practices in Maryland, including ones that largely serve Black and Hispanic patients and communities with less geographic access to other vaccination sites, he said.
Hogan said the state's Vaccine Equity Task Force (VETF) is launching mobile vaccine clinics in hard-to-reach rural areas.
Gov. Hogan announces a pilot program that gives vaccine doses directly to primary care practices. It will include 37 practices in MD, including ones that serve largely Black and Hispanic patients and communities with less geographic access to other vaccination sites. @mymcmedia

— Maryam Shahzad (@maryam_mcm) March 18, 2021