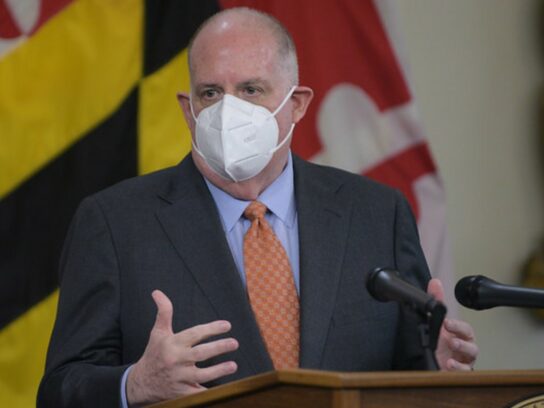 After leaders said Montgomery County is approved for a mass vaccination site at Montgomery College Germantown, Gov. Larry Hogan called the announcement "premature."
During a county council meeting Tuesday morning, Emergency Management and Homeland Security Director Dr. Earl Stoddard announced that the state approved a COVID-19 mass vaccination site at Montgomery College's Germantown campus.
"The positive news is really that the state has given us the go-ahead and they will be actively supporting us with real logistical support to get this site up and running," Stoddard said. "And they are going to sort of recognize it as a partnership site with the state as we build that out."
Stoddard said he hopes the site will be operating in coming weeks.
Following a tour of a vaccination site in Prince George's County, Hogan told reporters Tuesday afternoon that Montgomery County's announcement was premature and that no decision had been made.
"We're in discussions with four or five different counties [about mass vaccination sites]," he said. "There has been no decision made. I think that was a little bit premature but we're certainly working with them. We're going to make decisions by next week and we'll let the counties and all of you know."
Hogan said that during a call with the White House COVID-19 team Tuesday, he learned that states will not see an increase in vaccine supply for two weeks, but beginning March 29 states will see a "fairly dramatic increase" in doses. He said the state may have announcements about mass vaccination sites next week.
"I think after today our team is going to continue to work with Montgomery County and a number of other large counties about the possibility and I think we may have some further announcements about that next week now that we have a better understanding of supply," Hogan said.
Montgomery County leaders, including Stoddard, will hold their weekly COVID-19 media briefing Wednesday at 12:30 p.m.