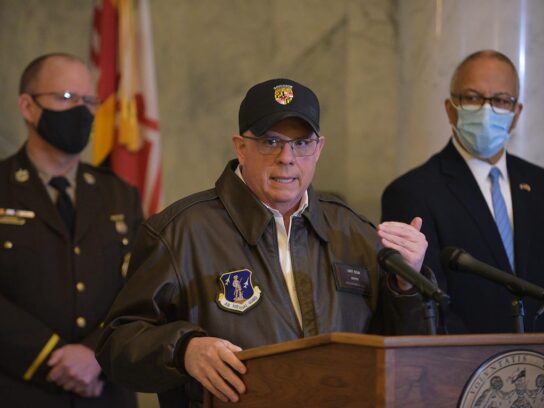 El gobernador Larry Hogan emitió una proclamación el viernes declarando el estado de emergencia para la próxima inauguración presidencial el 20 de enero.
Según la oficina del gobernador, la acción ejecutiva permitiría al estado coordinar y ayudar mejor a las jurisdicciones locales y los estados vecinos en lo que respecta a la seguridad.
Hogan también está buscando ayuda federal de la Casa Blanca, solicitando una Declaración Presidencial de Desastre, para que los gobiernos estatales y locales puedan recibir el reembolso de los costos de respuesta a los ataques del 6 de enero al Capitolio de los Estados Unidos. La declaración también se utilizaría como reembolso por la seguridad continua que el estado ha estado brindando para apoyar a los socios federales y a Washington, D.C. en los días previos a la inauguración.
"El estado de Maryland continuará haciendo todo lo posible para asegurar la capital de nuestra nación y garantizar la transición pacífica del poder", dijo Hogan en un comunicado. "No dudamos en brindar un apoyo fundamental durante la insurrección del 6 de enero, y continuaremos trabajando en estrecha colaboración con agencias aliadas, gobiernos locales y nuestros socios federales para apoyar las Ceremonias Inaugurales".
Here is a summary of the precautions we're taking to secure the State House complex. pic.twitter.com/elfvzVr9rP

— Michael Ricci (@riccimike) January 15, 2021
En la carta de Hogan a la administración Trump, también solicitó que se renuncie al costo compartido requerido por la Ley Stafford, considerando la naturaleza de la inauguración como un evento federal.
La noticia llega después de que Hogan emitiera un comunicado conjunto con el gobernador de Virginia Ralph Northam y la alcaldesa de Washington D.C. Muriel Bowser, instando a los estadounidenses a evitar visitar D.C. para la inauguración debido a amenazas de posible violencia. En cambio, los tres líderes animaron a los estadounidenses a participar virtualmente en la inauguración.
El FBI también advirtió que puede haber protestas armadas en las 50 capitales estatales el día de la inauguración. Hogan dijo en una conferencia de prensa que cualquiera que vaya armado a la Cámara de Representantes lo lamentará, y agregó que el estado no está enfocado en una amenaza específica para la capital.
Hogan dijo que planea asistir a la toma de posesión del presidente electo Biden.
El estado ha duplicado la presencia de la Guardia Nacional de Maryland en D.C. de 500 a 1,000 miembros. La oficina del gobernador explica que, con una declaración del estado de emergencia, "el gobernador Hogan ha autorizado a la Agencia de Manejo de Emergencias de Maryland y a todas las demás autoridades estatales apropiadas para desplegar y coordinar los recursos disponibles en apoyo de las jurisdicciones locales y los ciudadanos de Maryland, y para activar sus planes de preparación. También permite que Maryland reciba asistencia de otros estados como parte del Pacto de asistencia para el manejo de emergencias ".
Maryland is immensely proud of @MDNG Brigadier General Janeen Birckhead, who has been selected to command the National Guard troops serving at the Capitol.

Thank you to all who are defending the heart of our democracy. https://t.co/YytwNi9gD6

— Governor Larry Hogan (@GovLarryHogan) January 15, 2021