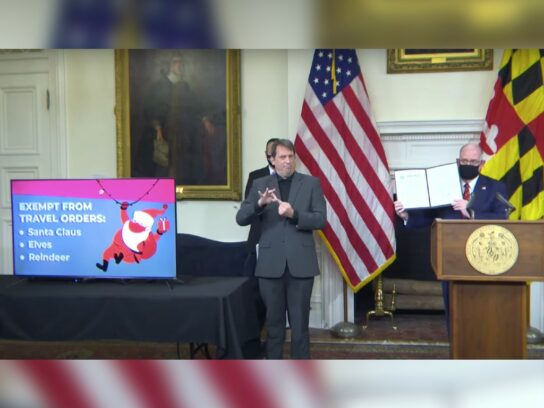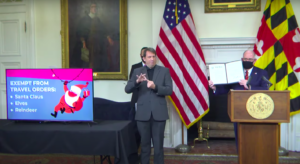 El gobernador de Maryland Larry Hogan emitió una orden de emergencia que limita los viajes sólo por razones esenciales.
Aquellos que viajan dentro y fuera de Maryland ahora deben obtener un resultado negativo de la prueba de COVID-19 o ponerse en cuarentena durante 10 días, dijo Hogan en una conferencia de prensa, el jueves. La restricción no afecta a las personas que conducen hacia y desde estados de la región.
"Estamos hablando de volar fuera del estado o viajar a lugares que están fuera de nuestra región", dijo Hogan. La gente viaja entre las fronteras locales todos los días por motivos de trabajo, añadió el gobernador.
"No vamos a estar ahí afuera controlando a las personas o haciendo que las fuerzas del orden vayan tras las personas por viajar", dijo. "Simplemente vamos a confiar en la buena fe de las personas que van a escuchar estas órdenes porque son de vital importancia para mantener a la gente con vida".
Today I announced a series of actions to limit the spread of COVID-19 during the holiday season, including new testing and quarantine requirements for travel, and a new public health advisory to limit gatherings.

Details: https://t.co/17BAQi1WGm pic.twitter.com/fkpBPkClKb

— Governor Larry Hogan (@GovLarryHogan) December 18, 2020
Hay una excepción a la orden de viaje. En una "orden de emergencia muy especial", Hogan eximió a Santa Claus, sus elfos y renos de todos y cada uno de los requisitos de viaje, pruebas y cuarentena. Hogan dijo que según el Dr. Anthony Fauci, Santa es inmune al COVID-19. Sin embargo, todavía usará su máscara, agregó el gobernador.
Hogan enfatizó que esta excepción solo se aplica a los elfos no humanos y al "único y verdadero" Santa.
"No se aplica a ninguno de sus representantes o contratistas, incluido, entre otros, los Santas de los Centros Comerciales", dice la orden de emergencia.
Santa Claus is, of course, coming to town. I have issued a special executive order exempting Santa, his affiliated elves, and reindeer necessary for the propulsion of his sleigh from all emergency orders regarding travel.

Read the order here: https://t.co/l8vdsgSUhx pic.twitter.com/i4m0HrQkD6

— Governor Larry Hogan (@GovLarryHogan) December 18, 2020
El gobernador instó a los residentes de Maryland a quedarse en casa. "Estás más seguro en casa durante las vacaciones de este año", dijo. Hogan redujo el límite de tamaño de reunión de 25 personas a 10, que ya es el límite en el condado de Montgomery. Anunció que todos los empleados estatales que puedan tele-trabajar deben hacerlo y, a partir del lunes, se suspenderán durante dos semanas todas las operaciones de personal en las instalaciones estatales. Hogan alentó a las empresas a instituir políticas de teletrabajo, si fuera posible.
El gobernador anunció $ 180 millones adicionales en ayuda económica de emergencia inmediata para los residentes de Maryland:
$ 50 millones: hoteles y hostelería
$ 30 millones: restaurantes
$ 15 millones: lugares de entretenimiento
$ 5 millones: empresas desfavorecidas en condados rurales
$ 40 millones: beneficios temporales de asistencia en efectivo
$ 40 millones: aumento salarial acelerado para la atención de discapacidades del desarrollo