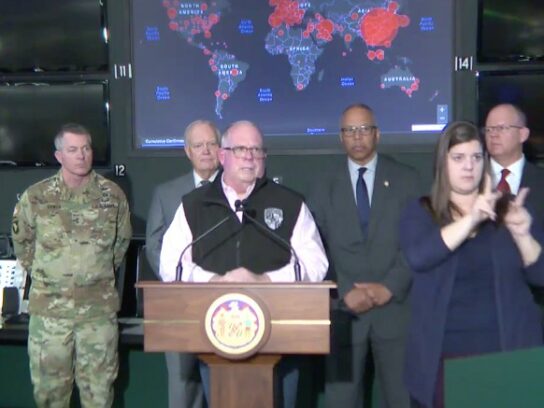 Gov. Hogan expressed his frustration with the federal government's communication about the 12 Marylanders aboard the Grand Princess cruise ship docked off the coast of California after the COVID-19 coronavirus was confirmed onboard. 
21 cases of the coronavirus have been confirmed on the ship: two guests and 19 crew members. The ship docked at a port in Oakland on Monday and began disembarking passengers in order of priority "as defined, directed and managed by both state and local authorities," according to a statement from Princess Cruises. It will be a multiple day process. As of Tuesday, Princess Cruises said 1,406 of over 3,500 people onboard had disembarked. 
California residents aboard the ship will go to federal facilities within the state for testing and quarantine. Non-Californians will go to federal facilities in other states, and crew members will stay on the ship, also for testing and quarantine. 
At a press conference Wednesday, Hogan said he does not know a lot about the 12 Marylanders on the ship. 
"Unfortunately, the information from the federal government has not been that forthcoming. We've been somewhat frustrated by that," Hogan said. 
He said he doesn't fully know the identities of the Marylanders or where they're going once they get off the cruise ship. 
"We don't have all the information about each of these folks. How much contact that the federal government and the military has had with the family members is something I'm not sure of. We don't even have all the information about the identities of the people or which military bases they're going to yet, which is of great frustration to me personally," Hogan said. 
There are 12 confirmed cases of the illness in Maryland, which are not connected to the 12 guests on the Grand Princess. Hogan announced the first case of community transmission of the illness as being the Prince George's County man in his 60s announced Wednesday. Community transmission means the patient had no known exposure to the illness through travel or contact with an infected person, according to the governor's statement.
The World Health Organization (WHO) declared the coronavirus outbreak a global pandemic. At the press conference, Hogan said residents should be prepared for dramatic increases in positive cases, as can be seen in other states that had positive cases before Maryland did. He said all Marylanders need to understand that there may be significant disruption to their everyday lives for a period of time.