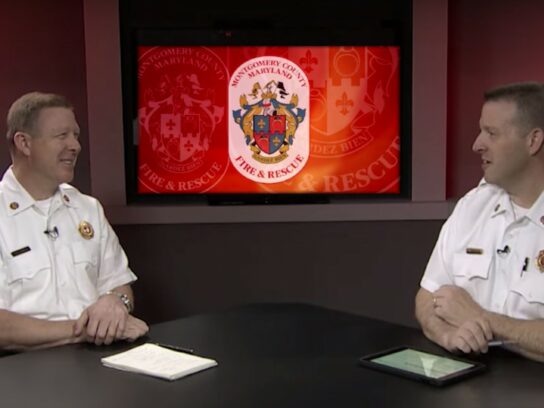 Montgomery County's Fire and Rescue Service has implemented new measures to help ensure the safety of their firefighters and the public from coronavirus.
In their monthly briefing, Fire Chief Scott Goldstein sat down with Assistant Chief Adam Jones to discuss MCFRS's efforts towards preventing the spread of coronavirus. MCFRS has been working on preventative measures since late January, according to Jones.
In response to the virus the department has equipped their responders with more supplies including wipes, cleaning supplies and masks as a precaution. MCFRS has also created an infectious disease blog to help communicate coronavirus information quicker to the public, according to Jones.
MCFRS Fire Chief Scott Goldstein's monthly Video focused on @MontgomeryCoMD planning & response to #COVID19 A/Chief Adam Jones covered insight to @mcfrs Infectious Disease URL, the Playbook, inventory, operational changes & more as MCFRS responds SEE: https://t.co/9OaeEWvlJb

— Pete Piringer (@mcfrsPIO) March 12, 2020
A challenge MCFRS has faced is their ability to stockpile supplies. While the department ordered more supplies in early February in response to the virus, many of those orders still have yet to come in, stated Goldstein.
"Our ability to have stockpiled supplies and be able to support the marathon and the long duration incident is going to be a challenge," said Goldstein.
Another large part of their efforts includes the implementation of additional screening in the 911 process. This includes the addition of a question about residents recent travel and experience with flu like symptoms at the end of every 911 screening, according to Goldstein. The additional screening began this week.
Furthermore, if responders are alerted that there is someone with viral symptoms, only two fire fighters will go in with masks and gloves to asses the situation, according to Jones.
"We want to limit the amount of resources that we bring into these homes. If they need a third person or fourth that fine, but for our supply chain, our exposure and exposure of patients for us we want to make sure that we limit that contact," said Jones
Goldstein emphasized that responders will be assessing patients from a socially recognized "six feet away" distance in order to assess if the patient is exhibiting symptoms of the virus and needs a mask.
"Expose or place people into that environment at a limited measure until you know the circumstances and until you have appropriate precautions in places," said Goldstein.
Jones said he believed the increase in access to testing kits and the new testing capabilities in Baltimore, will cause an increase in the amount of positive coronavirus cases.
An MCFRS member tested positive for coronavirus recently but, with the help of health officials, they concluded that there were no risks exposed to other fire fighters, according to Goldstein.
MCFRS has urged residents to wash their hands with soap and water to help decrease the spread of the virus.
Goldstein emphasized that despite the coronavirus being outside of their normal scope of calls, MCFRS is ready and able to help the community.