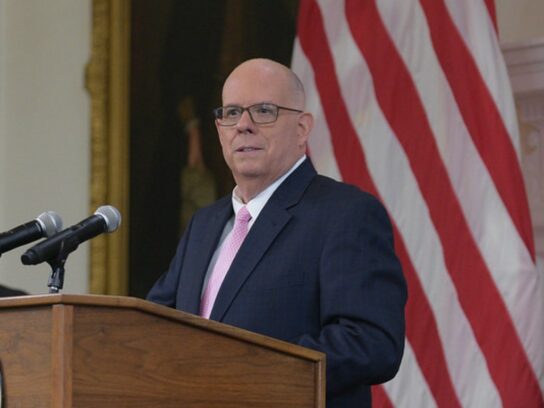 Gov. Larry Hogan lifted the state's outdoor COVID-19 mask mandate effective immediately, he announced during a press conference Wednesday.
"Masks and face coverings are no longer required outdoors in the state of Maryland," Hogan said. The CDC released new guidance about mask-wearing on Tuesday, including guidance that fully-vaccinated people can do several outdoor activities without masks.
Local counties and jurisdictions are allowed to enforce stricter COVID-19 regulations than the state.
The governor noted that if you're not vaccinated, public health experts strongly recommend you get your shots and wear a face covering outdoors until you do. He said masks are still required at large, ticketed venues, indoor businesses and on public transportation in Maryland.
Hogan also announced that effective this Saturday, May 1, all outdoor dining restrictions will be lifted, which includes all capacity and distancing rules. Standing service can resume outdoors at bars and restaurants. As for indoor dining, seated service and physical distancing remain in effect.
The state expects to be able to take additional actions in weeks ahead as more Marylanders get vaccinated and health metrics improve, Hogan said.
"However, I want to stress once again that the fastest way to put this pandemic behind us, once and for all, is for every single eligible Marylander to get vaccinated as soon as possible," Hogan said.
Also beginning Saturday, the state is transitioning to direct scheduling for mass vaccination sites. Preregistration will no longer be required at the end of the day Thursday and by Friday's end, Hogan said every preregistered resident will have been contacted for an appointment. Beginning Saturday, Marylanders will be able to immediately schedule appointments online.
Masks are still required at large, ticketed venues, indoor businesses and on public transportation.

Hogan noted that if you're not covid-19 vaccinated, public health experts recommend masks until you get vaccinated. @mymcmedia

— Maryam Shahzad (@maryam_mcm) April 28, 2021
Hogan said effective Saturday, ALL outdoor dining restrictions will be lifted. Standing service can resume outdoors at bars and restaurants. @mymcmedia

— Maryam Shahzad (@maryam_mcm) April 28, 2021