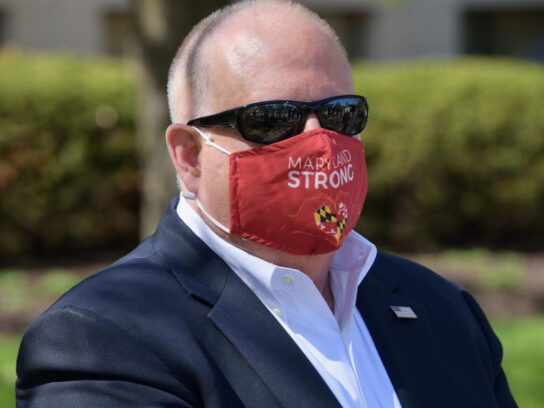 At 5 p.m., May 15, Maryland's stay at home order will be lifted and retail stores and religious insitution can reopen under certain restrictions, Gov. Larry Hogan announced Wednesday afternoon.
The state now is ready to move into stage one of its Road to Recovery, he declared.
However, earlier Wednesday, County Executive Marc Elrich said Montgomery County will make its own decision on when to end the stay at home order and has Hogan's blessings to do so.
"We would not want them to do it when they don't feel they are safe," Hogan said during a press conference. "They made it clear they are not ready to move into stage one," he said of Montgomery and Prince George's counties.
Those two counties as well as Washington D.C. and Northern Virginia are hot spots, Hogan noted, adding that four of Maryland's 22 counties are home to 70 percent of the state's COVID-19 cases.
For much of the state, during the past 14 days, the death rates, number of hospitalizations, number of people in acute care units and number of new cases have all leveled and even trended downward, Hogan said.
Therefore, effective Friday at 5.p.m.:
Retail stores can open but only to 50 percent of their building capacity;
Places of worships may hold services, preferably outdoors but inside also is permitted at 50 percent capacity of the room;
Manufacturing companies may resume work as long as they protect workers by adding more shifts and keeping employees at least six feet apart;
Barber shops, salons, dog grooming places, car washes, art galleries and similar businesses may start up by appointment only and with up to 50 percent capacity; and
Businesses may reopen, although they are encouraged to have as many employees as possible work from home.
Everyone should wear masks when going to these places and should continue to wash their hands, he said.
Just because Maryland is beginning stage one of its recover "does not mean we are safe or the crisis is over," Hogan said, adding that he could reissue his stay at home order if the numbers of hospitalizations and new cases begin to spike.
"This truly is one of the most daunting challenges that our state and country has ever faced," Hogan said.
He praised Marylanders, saying they helped flatten the curve. "Together our actions and sacrifices prevented hundreds of thousands of Marylanders from being affected."
About two weeks ago, the state switched from defensive to offensive and began focusing on getting equipment, protective clothing and test kits to the "hot spots," which Montgomery County is one.
He warned, "The fight is far from over," adding, "This virus will continue to be with us and be a part of our daily lives" until a vaccine is readily available.