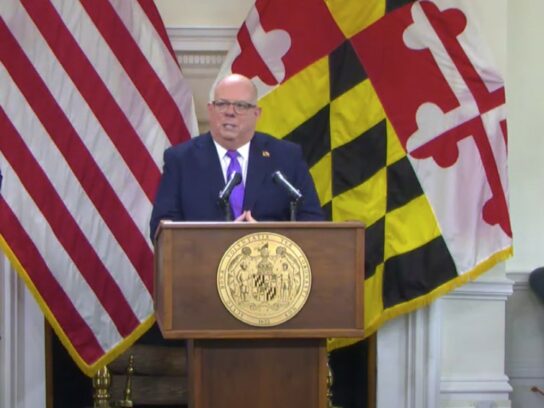 Maryland's plan for reopening has three stages and could begin in early May, Gov. Larry Hogan announced at a press conference Friday. 
"I'm optimistic that if Marylanders continue staying home and continue practicing physical distancing a little while longer, that our numbers could continue to plateau, and I'm hopeful that we could then be able to begin our recovery in early May," he said. 
Before we can begin reopening, the rate of COVID-19 hospitalizations and number of patients in the ICU must be consistently declining and plateauing. Then we can consider lifting the Stay at Home order and beginning the recovery plan.
The plan is called Maryland Strong: Roadmap to Recovery. Stage one is lifting the Stay at Home order, reopening some small businesses and starting lower risk activities like outdoor recreation and outdoor religious gatherings, and resuming elective surgeries in select counties with fewer cases. Businesses that could reopen include some retail shops and golf courses. Local governments would have the flexibility to open parks, playgrounds, recreation centers and libraries if they decided that public health guidelines could be followed.
"These decisions would be based on the ability to continue physical distancing and to continue to limit person-to-person contact," Hogan said. If stage one is successful and there is no spike in COVID-19 deaths, ICU hospitalizations or unforeseen outbreaks, then Maryland can move on to stage two. 
Stage two is raising the limit on social gatherings, limited and physically distanced indoor religious gatherings, opening bars and restaurants with significant safety restrictions and letting non-essential workers who can't telework go back to work.
Stage three is allowing higher risk activities like larger gatherings, reopening high capacity bars and restaurants, lessening hospital restrictions and allowing family visits to nursing homes and larger religious gatherings.
LIVE: COVID-19 Update – April 24, 2020

Live captioning is available on YouTube. https://t.co/PWbxgRHhfb

— Governor Larry Hogan (@GovLarryHogan) April 24, 2020
Hogan said these changes must be gradual. 
"If we try to rush this and if we don't do it in a thoughtful and responsible way, it could cause a rebound of the virus, which could deepen the economic crisis, prolong the fiscal problems, and slow our economic recovery," he said. 
Even when Maryland starts to reopen, it will be critical for people to maintain their individual efforts to slow the spread, like wearing masks, social distancing and telecommuting if possible, said Dr. Tom Inglesby, director of the Center for Health Security of the Johns Hopkins Bloomberg School of Public Health. 
"Taking together all of our collective actions or decisions, we'll either slow this virus down, or they will speed up the spread," he said. 
Inglesby and Hogan both emphasized that COVID-19 will be a part of our lives until there is a vaccine.  
"We won't be able to just flip a switch… It is important to recognize that until a vaccine is developed, the way we go about our daily lives and the way we work is going to be significantly different," Hogan said.