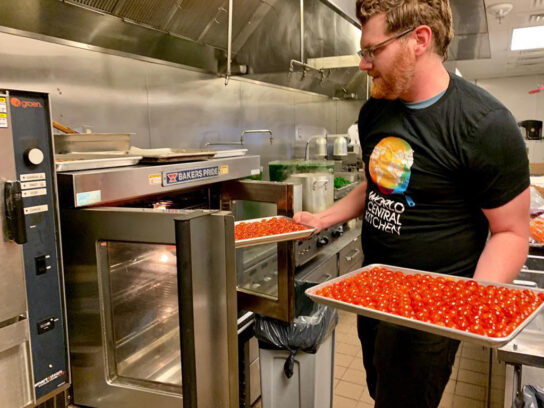 World Central Kitchen, the nonprofit founded by Chef José Andrés, will expand its meal services in Baltimore, at the request of Gov. Larry Hogan.
The food distribution will take place Saturday from 11 a.m. to 2 p.m. at Camden Yards, home of the Baltimore Orioles. Meals will be provided in Parking Lot H, and both drive-thru and walk up is encouraged.
Residents are encouraged to enter the sports complex via Lot H, at 1200 S. Sharp St. and 200 W. West St.
"This certainly isn't how we planned to be using Camden Yards right now, but at the very least, we can use the space to help families in need during this crisis," said Gov. Hogan. "We're all in this together, and we will get through this together."
WCK, supported by the Maryland Stadium Authority, will safely distribute 10,000-20,000 packaged meals for Baltimore residents.
"We're honored and proud to start serving freshly made meals from historic Camden Yards in Baltimore, definitely one of the most beautiful stadiums in the country," said Nate Mook, CEO of World Central Kitchen.
"Whenever the Governor, the legislature or local municipalities ask the Maryland Stadium Authority to take on additional projects, our response is 'we're here to serve,'" said Thomas Kelso, chairman of the Maryland Stadium Authority. "In this instance, it is especially gratifying to support World Central Kitchen so they can provide our neighbors nourishing meals during this crisis."
Beginning this Saturday, @chefjoseandres and @WCKitchen are expanding their food relief operation at Lot H of the Camden Yards Sports Complex: https://t.co/nNhU80KMmr

— Governor Larry Hogan (@GovLarryHogan) April 23, 2020
On Saturday, April 25, @WCKitchen meals will be distributed from 11:00 a.m. to 2:00 p.m. Please enter the #CamdenYards Sports Complex via Lot H near M&T Bank Stadium from 1200 S. Sharp St. & 200 W. West St.https://t.co/5KRJEVa2u9 pic.twitter.com/6ug1ODgBqA

— MD Stadium Authority (@MDStadiumAuth) April 24, 2020
Baltimore folks – and this means folks in Baltimore County too – If you are hungry and need food, please attend and share. TY to @BELBaltimore and @DelMaggie43 for helping to make this happen! And tremendous TY to @WCKitchen for seeing a need and acting! pic.twitter.com/jmvCQkjJl4

— Shelly Hettleman (@shellyhettleman) April 24, 2020