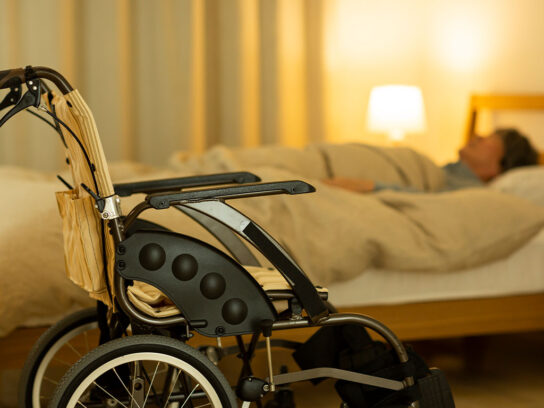 Gov. Larry Hogan announced during a news conference Thursday that Maryland has reached a new milestone since the start of the coronavirus pandemic. For the first time since March 28, Hogan said Maryland is reporting zero coronavirus deaths.
Nursing Home Indoor Visiting Now Allowed
As Maryland is in its third recovery phase—but Montgomery County is still in phase two—the state is looking to bring normalcy to nursing homes. In June, nursing homes were allowed some outdoor visiting, but now—effective immediately—nursing homes in Maryland can resume indoor visits as long as the nursing home hasn't experienced any new coronavirus cases in 14 days.
Hogan said the decision was made because of advances in rapid testing. Maryland secured 250,000 rapid antigen tests through an interstate testing compact. Hogan said that next week all 227 nursing homes in Maryland will receive the initial allocation of their rapid testing supplies.
Today I announced the safe resumption of indoor visitation at Maryland nursing home facilities. @MdPublicSchools Superintendent Dr. Karen Salmon also announced that child care providers in Maryland may return to full teacher to child ratios.

Details: https://t.co/AdoWBpKhGP

— Governor Larry Hogan (@GovLarryHogan) October 1, 2020
Overall, Hogan says the state of Maryland has provided nursing homes with $102 million in emergency funds for personal protective equipment and testing. The state will allocate $6 million additional funds to test nursing home staff for the coronavirus Hogan said.
Officials from Montgomery County government have not received a statement commenting on Hogan's announcement about nursing home visitations.
The State of Maryland will commit an additional $6 million to help facilities cover the cost of nursing home staff testing. To date, the state has dedicated nearly $102 million to testing and PPE for nursing homes.

— Governor Larry Hogan (@GovLarryHogan) October 1, 2020
Childcare Centers Can Operate at Full Capacity
State Superintendent of Schools Dr. Karen Salmon announced that childcare centers in Maryland can now operate at the full teacher-student capacity for which they are licensed.
"At this time more than 82% of childcare providers have reopened," Salmon said.
A statement from Maryland Department of Education says the "announcement means that child care centers can now serve up to 20 three- and four-year olds in a room with a ratio of 1 teacher to 10 students and up to 30 school-age students with a ratio of 1 teacher to 15 students."
With improving health metrics and the continuance of Stage 3 of Recovery, State Superintendent Karen B. Salmon announces that child care capacities are restored to licensing standards. Read more here: https://t.co/8CSph6mwxP

— Maryland State Department of Education (@MdPublicSchools) October 1, 2020
Reopened childcare programs can receive a grant of $800 for family childcare providers and $1,600 for center-based childcare providers. These grants are available through Oct. 31. The Maryland Department of Education is also providing $1,000 in start-up grants for eligible new childcare businesses.
Montgomery County government officials have not released a statement about these announcements from the state superintendent.
Additional Information From Hogan's News Conference
Here's everything else Hogan talked about at Thursday's news conference:
Since the flu season is coming, Hogan encouraged all Marylanders to make sure they receive their annual flu shot. He added that the state has worked with hospitals to prepare for a surge in patients with coronavirus and the flu.
Hogan says the state has used close to 270,000 of the South Korean test kits.
Hogan said progress is being made on the purple line, but the state will be moving forward with a different construction company. This may cause delays in the project's timeline.
Hogan said the state is planning for a potential surge in coronavirus cases in the fall. "We're doing better than most states all across the country," Hogan said. "I wouldn't say we're not concerned about the potential surge in the fall."
Hogan blamed teachers unions—not teachers—for some schools' delayed return to the classrooms. "They don't want to go back really ever [or until there's a vaccine]," Hogan said of teacher unions.
"Testing as a screening tool for schools is not needed," Dr. Jinlene Chan from Maryland Health Department said in regards to testing in schools.
"It was just a trainwreck," Hogan said of the presidential debate between Donald Trump and Joe Biden this week. "I could barely watch it."
Today, for the first time since March 28, the State of Maryland is reporting zero new coronavirus deaths. My full statement: pic.twitter.com/QieFD39Ltr

— Governor Larry Hogan (@GovLarryHogan) October 1, 2020