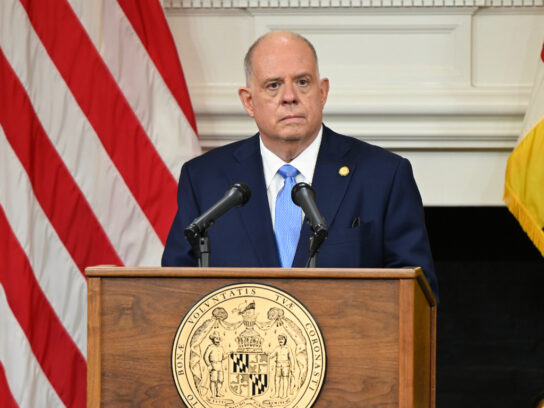 Maryland State Police (MSP) is aware of online information about possible armed protests at state capitols, according to Gov. Larry Hogan's office.
An internal FBI memo warns that armed demonstrations are being planned at all 50 state capitols and may begin this weekend, The Associated Press reported Monday. According to the AP, the memo reads: "Armed protests are being planned at all 50 state capitols from 16 January through at least 20 January, and at the U.S. Capitol from 17 January through 20 January." ABC News first reported the FBI memo. Mike Ricci, Hogan's communications director, noted Sunday, Jan. 17 as a day for planned demonstrations. He said State Police is in constant contact with law enforcement partners about any possible events.
The Baltimore Sun reported that a spokesperson for Hogan confirmed the state received the FBI memo.
At a press conference Monday, Hogan said additional security measures will be in place at the State House complex in Annapolis. He will receive a briefing that afternoon from his security team about the situation in the state and assistance efforts in D.C.
Also Monday afternoon, Hogan said he has a call scheduled with Virginia Gov. Ralph Northam and D.C. Mayor Muriel Bowser about regional coordination efforts. The governor said he is also setting up a meeting with the FBI, so he can receive a briefing. Many police departments, as well as the Maryland National Guard, are always somewhat involved in presidential inaugurations, Hogan said, and of course, the upcoming inauguration is a heightened situation. 500 members of the Guard are already deployed in the district, and Hogan thinks several hundred more will be deployed after discussions.
Last Wednesday, the nation's Capitol building went under lockdown when supporters of President Donald Trump stormed the building. Five people reportedly died, including one Capitol Police officer.
Montgomery County and State Police, as well as the Maryland National Guard, was deployed to D.C. to help law enforcement. On Monday, Ricci said the MSP Mobile Field Force is ready to be deployed to Washington, D.C. wherever necessary.
MD Gov. Hogan directs state police to help Metropolitan and Capitol Police. @mymcmedia https://t.co/XDKHhb9l93

— Maryam Shahzad (@maryam_mcm) January 6, 2021