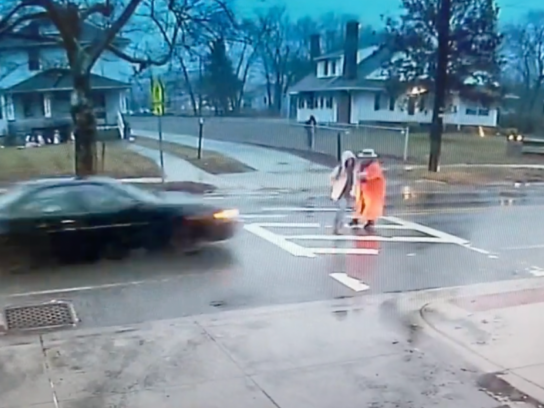 A Cecil County Public Schools (CCPS) crossing guard pushed a student to safety from an oncoming car that failed to stop at a crosswalk, the school system said. 
In a video shared by CCPS Superintendent, Dr Jeffrey Lawson, the crossing guard is seen putting herself in front of the student before being hit by the car. 
This is what hero police officers do! North East Police Officer Annette Goodyear saved a student from harm's way early this morning. pic.twitter.com/efpgjqucuO

— Dr. Jeffrey Lawson (@DrJalawson) February 4, 2022
CCPS identified the crossing guard as Officer Annette Goodyear from the North East Police Department (NEPD). 
"We are thankful that Officer Goodyear was treated and released from the hospital…we are forever grateful for the selfless response of this hero," CCPS said in a Facebook post.
Goodyear has been an officer with NEPD since 2008. She is the first female officer to be hired by the department, according to the NEPD website. The corporal has several duties including arrest and warrant service, handling of controlled dangerous substances and paraphernalia, and investigations. 
Cecil County Executive Danielle Hornberger said in a Facebook post that Goodyear visited the little girl she saved upon being released from the hospital. 
Hornberger added that she has spoken with Mayor Kline and that the town of North East "is already working on commendations for her bravery and swift action!" 
Maryland Gov. Larry Hogan said in a tweet that he will be awarding a governor's citation to Goodyear "for her incredible heroism."
I will be awarding a governor's citation to Annette Goodyear for her incredible heroism in putting herself at risk to save a young student from being hit by an oncoming car.https://t.co/tAYQy2jvPv

— Governor Larry Hogan (@GovLarryHogan) February 7, 2022
"I became an officer because I wanted to help people and if I make a difference for just one person I have done a great thing. I love the job I do and I work with a great group of officers," Goodyear said under her biography on the NEPD website.