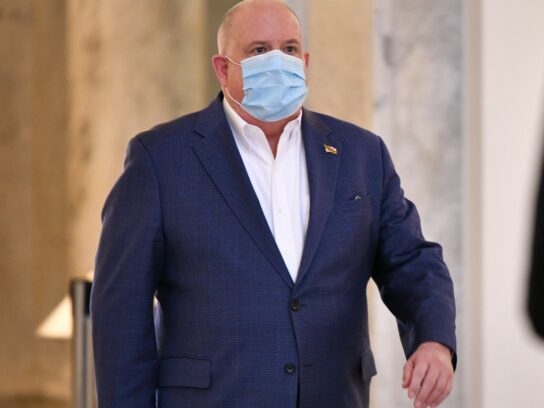 El gobernador de Maryland Larry Hogan escribió el sábado en su cuenta de Twitter que "está totalmente en desacuerdo con la decisión del condado de Montgomery de ordenar el cierre de escuelas privadas y parroquiales".
El anuncio se produce después de que el Dr. Travis Gayles, Oficial de Salud del Condado de Montgomery, emitiera una directiva el viernes, ordenando que las escuelas privadas e independientes permanezcan cerradas hasta el 1 de octubre. (El condado evaluará la directiva antes del 1 de octubre para determinar si debe enmendarse o continuar por un período de tiempo más largo debido al coronavirus).
I strongly disagree with Montgomery County's decision to mandate the closure of private and parochial schools. My full statement: pic.twitter.com/4pESSu93Tj

— Governor Larry Hogan (@GovLarryHogan) August 1, 2020
El 22 de julio, la superintendente del estado de Maryland, Karen Salmon, dijo en la conferencia de prensa sobre coronavirus de Hogan que el estado está otorgando autoridad a los distritos escolares locales para decidir si comenzar la escuela virtualmente, en las aulas o una combinación de ambas. Sin embargo, si los estudiantes y el personal regresan al aula, deben seguir las pautas de los CDC y exigir que se les cubra la cara, dijo Salmon.
En su declaración del sábado, Hogan dijo sobre las escuelas privadas en el condado de Montgomery: "Mientras estas escuelas desarrollen planes seguros que sigan los CDC y las pautas estatales, deberían tener el poder de hacer lo mejor para su comunidad. Esta es una decisión de las escuelas y los padres, no de políticos".
El superintendente de las Escuelas Públicas del Condado de Montgomery, Jack Smith, anunció el 21 de julio que las escuelas operarán de manera virtual durante al menos el primer semestre". La Junta de Educación del Condado de Montgomery votará sobre esta recomendación en su reunión del 6 de agosto.
Un grupo privado de Facebook llamado Open Montgomery County, MD Private Schools se lanzó el sábado y rápidamente obtuvo más de 3,500 seguidores.
Horas antes de que Hogan hiciera el anuncio, Laura Ingraham, la personalidad de televisión de Fox News, tuiteó: "Si @GovLarryHogan cree que tiene algún futuro político, será mejor que salga a la televisión hoy y condene la orden del cierre de las escuelas privadas y parroquiales de Montgomery Co…".
If @GovLarryHogan thinks he has any political future at all, he better get on TV today and condemn the Montgomery Co. order closing private & parochial in-person schooling. Everyone's getting deposed here, boys. Suit up.

— Laura Ingraham (@IngrahamAngle) August 1, 2020
Líderes electos responden a Hogan en Twitter:
Los funcionarios electos del condado de Montgomery están respondiendo a Hogan en Twitter. Aquí hay un vistazo a lo que dicen:
I strongly disagree with your decision to require residents to request a mail in ballot by mail before they can receive one. We'll focus on keeping Montgomery County residents safe, you focus on not disenfranchising Maryland voters. #coronavirus #VoteByMail

— Will Jawando (@willjawando) August 1, 2020
.@GovLarryHogan this decision was made by the Montgomery County health officer, not a politician. I've really respected the leadership you've shown in the past, but this is absolutely unhelpful. https://t.co/Ut4NkgbLCL

— Craig Zucker (@SenatorZucker) August 1, 2020