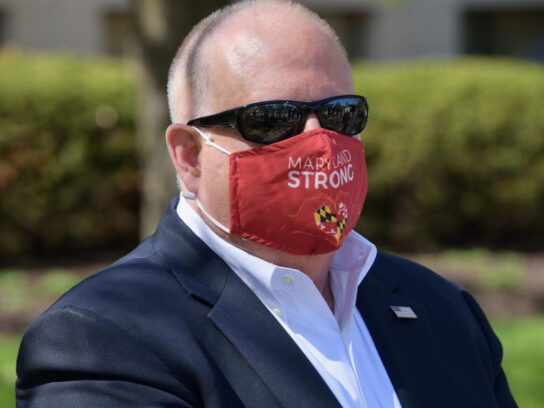 Maryland Gov. Larry Hogan urged residents to follow public health guidance at a press conference Thursday.
He emphasized that mask-wearing is the single best way to fight COVID-19, save lives and keep businesses open.
"I mean it's that simple. It's not that hard. Just wear the damn masks," he said. Hogan said that Thursday morning showed the highest one-day increase in COVID-19 cases in the state since July 25, with 1,198 new cases reported. Of those cases, 226 are from Montgomery County, which is the highest case increase in the county since June 4.
He did not announce any new restrictions or rules.
"I think right now, enforcing the existing laws that people aren't following is more important than adding new ones."
Gov. Hogan says mask-wearing is the best way to protect public health.

"Just wear the damn masks." @mymcmedia

— Maryam Shahzad (@maryam_mcm) November 5, 2020
Hogan said the state's positivity rate is beginning to trend in the wrong direction. Seven jurisdictions have rates above 5%: Allegany, Dorchester, Garrett, Harford, Prince George's, Queen Anne's and Somerset.
Hospitalizations are down almost 66% since they peaked over 180 days ago, Hogan said, however over the past two weeks the state has seen a concerning increase in hospitalizations and ICU stays. He said Maryland just entered the red zone for the case rate per 100,000. It has risen to 15, which is a 22% increase in the last week. He said no person should think Maryland is immune to the spikes seen across the country. He called on Marylanders to do their part to keep residents safe and healthy.
"Today we need every single Marylander to recommit to the actions that have helped us crush the curve the first time around," Hogan said. He said the statewide mask mandate will remain in full force. Teleworking is still encouraged, and traveling to states with spiking cases is discouraged.
The state is concerned about increasing reports of non-compliance and lack of compliance enforcement by local officials and leaders. They must ramp up their efforts to what they were in the spring, Hogan said. He reiterated that counties are allowed to implement stricter policies than the state.
"Counties with high positivity and case rates will have my full support as they continue to make some difficult decisions at the county level," he said.
On Wednesday, Montgomery County Executive Marc Elrich said it was time to reinstate some COVID-19 restrictions, including reducing the gathering size limit from 50 to 25 people. The county council was scheduled to approve Elrich's executive order Thursday, however, it has been postponed until Tuesday. Emergency Management and Homeland Security Director Dr. Earl Stoddard said the changes will likely go into effect Tuesday at 5 p.m., assuming the council approves it that day.
Elrich's executive order includes the following changes:
Reduce gathering size limit from 50 to 25 people.
Reduce capacity to 25% for the following: food establishments, fitness centers, museums/art galleries, retail establishments and religious facilities.
Reduce capacity to 25% or 25 people, whichever is lower, for bowling alleys and personal services.
Require restaurants to collect contact information from customers to help with contact tracing.