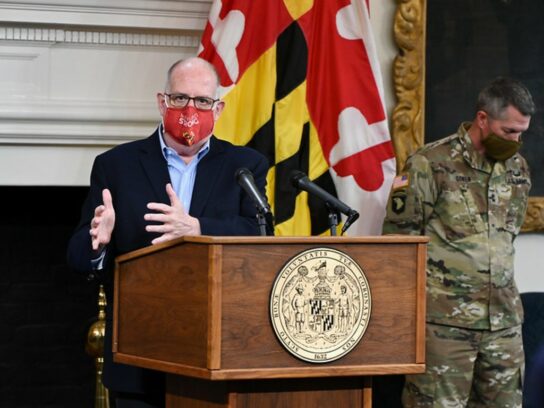 Beginning Feb. 1, Maryland will expand its COVID-19 vaccination Phase 1 to include some "severely immunocompromised" residents, Gov. Larry Hogan announced during a press conference Tuesday afternoon.
Vaccinations will be administered through hospital-based providers and state officials will give guidance to providers. As explained by Dr. David Marcozzi, COVID-19 Incident Commander for the University of Maryland Medical System, the new high-risk groups will be:
-cancer patients in active treatment
-end-stage renal disease patients requiring hemodialysis
-chronic obstructive pulmonary disease patients
-solid organ transplant recipients
-sickle cell disease patients
-diabetic patients
These groups are at higher risk of death per CDC guidelines, Marcozzi said.
Gov. @LarryHogan says starting Feb. 1, MD will expand vaccination Phase 1 to include some severely immunocompromised residents, like those receiving chemotherapy. Vaccinations will be given through hospital-based providers. @mymcmedia

— Maryam Shahzad (@maryam_mcm) January 26, 2021
Hogan said the state is anticipating an increase in vaccine supply from the federal government. The Washington Post reported that the White House's coronavirus response coordinator is expected to tell governors about supply increases Tuesday afternoon, according to a source familiar with the administration's coronavirus response efforts.
Ahead of that, Hogan said Maryland is working to stand up at least six mass vaccination sites, at locations including Six Flags America in Prince George's County, the Baltimore Convention Center and M&T Bank Stadium, home of the NFL's Baltimore Ravens. The Six Flags and Baltimore Convention Center locations will be open no later than Feb. 5. Hogan said M&T Bank Stadium will open as soon as higher vaccine allotments are secured, and sites are also being finalized on the Eastern Shore and in western and southern Maryland. According to a statement from Hogan's office, the state will make an announcement when appointments become available.
Expecting an increase in vaccine supply, @GovLarryHogan says MD is working to stand up at least 6 mass vaccination sites. Sites will include Six Flags, the Baltimore Convention Center and M&T Bank Stadium. @mymcmedia

— Maryam Shahzad (@maryam_mcm) January 26, 2021
The governor said Maryland currently gets about 10,000 vaccine doses per day. He said there are about 2 million people within Phase 1 alone, who each require two doses, adding up to 4 million total doses needed to cover Phase 1. The state has received 667,275.
The state has moved to vaccination Phase 1C, which includes all residents ages 65-74. Montgomery County has not reached Phase 1C, but has moved to residents ages 75+ as the first group within Phase 1B.
This week, vaccination appointments in the county will be focused to the five zip codes hit hardest by the pandemic, Department of Health and Human Services (DHHS) Director Dr. Raymond Crowel said during a council meeting Tuesday morning.
"[20902, 20904, 20906, 20850, 20852] have the highest number of deaths in the county, so it's where we've started this week," Crowel said.
Phase 1B also includes groups like frontline public transit workers, K-12 teachers and support staff, and childcare providers, among other groups. However, Montgomery County has not yet started vaccinating those groups. The county also continues to vaccinate residents under Phase 1A, which includes healthcare workers and first responders like fire/rescue personnel. It also includes nursing home residents and staff, however the county does not manage those vaccinations.
Crowel said pre-existing disparities make communities of color across the county more vulnerable to COVID-19. The county will make sure those communities get vaccinated in proportion to the severity of COVID-19's impact.
"Communities of color that have been hardest hit will get a share of the doses and be invited in proportion to the level of impact of the virus on those communities," Crowel said. "As a practical matter, attacking this virus in places where it has the greatest toehold, where it has the greatest impact, is how we're going to kill it."