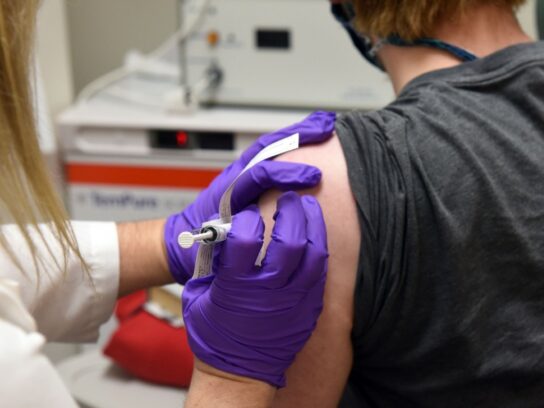 Montgomery County Enters Vaccine Phase 1B; State of Maryland in Phase 1C
Montgomery County announced that it has entered Phase 1B of its COVID-19 distribution plan. Phase 1B includes adults age 75 or older (tier 1) and essential frontline workers (tier 2 and tier 3 — see tweet below for a breakdown of these tiers).
Due to the limited number of vaccines currently available, as well as the high demand for receiving the vaccine, the county government is focused on vaccinating residents older than 75 before moving on to essential workers.
🆕 Montgomery County is now vaccinating residents 75 and older and will continue providing appointment links to others in Priority Group 1B as COVID-19 vaccine supply allows.
Read the news release for the latest info 💉➡ https://t.co/rO0EiQF9rk. pic.twitter.com/WTgAy23Fnd

— Montgomery County MD (@MontgomeryCoMD) January 26, 2021
The State of Maryland is currently in Phase 1C of its vaccination plan, meaning people age 65 and older can sign up to receive the vaccine. However, Montgomery County has not yet reached this point and officials say it will take a while before moving on from vaccinating those older than 75.
Progressing through the priority groups depends entirely on how many vaccine doses the county receives from the Maryland Department of Health each week. County Executive Marc Elrich warned in a Jan. 21 video that it may be a slow process because the demand for vaccines currently outweighs the supply that the county has on hand.
A Montgomery County statement explains, "More than 50,000 residents 75 years of age and older have preregistered so far, and the county receives an average of 6,000 doses weekly. The county, as well as other large jurisdictions in the State, may not move as quickly through the priority group phases as other parts of Maryland because of the demand and limited vaccine supply."
As of today, @MoCoDHHS is vaccinating those in Phase 1A and Phase 1B (ages 75 and older). Hospitals and other sites will vaccinate varying portions of the State's 1A, 1B, and 1C populations. For more info, visit the County's vaccine website: https://t.co/5eTzoBY8a9. pic.twitter.com/i69YJ4skey

— Montgomery County MD (@MontgomeryCoMD) January 25, 2021
Montgomery County's 1B, 1C Population Can Preregister for Vaccine Appointment Notification
Montgomery County residents who qualify to receive the vaccine in Phase 1A, 1B, and 1C, can currently preregister to receive an alert about when they can sign up for a vaccine appointment. The preregistration form for Priority Groups 1B and 1C can be found here.
Once vaccines are available, the county will send a link to eligible residents with instructions about scheduling appointments. However, the county warns residents not to share appointment links.
"We understand that this vaccine is the long-awaited ray of hope," said Elrich in a statement released on Tuesday. "Governor Hogan and I had a positive conversation yesterday about more effectively coordinating our efforts. We both know we need an increase in supply, which neither of us can control, but we are ready to do more when additional supplies arrive. Until then, please help us make sure that the appointment and distribution system is efficient – please do not forward links, and please do not use forwarded links," Elrich continued.
As of Jan. 26, the county has gotten a total of 26,900 first doses of the COVID-19 vaccine and has administered 90.6%.
Click here to sign up for Montgomery County COVID-19 vaccine updates.
Private Providers, Separate From County, May Also be Offering Vaccine
It's worth noting that some private providers in Montgomery County may be offering the coronavirus vaccine. However, those hospitals and pharmacies operate separately from the county government's vaccine facilities.
STATE/GIANT FOOD PARTNERSHIP – The State announced a vaccine partnership with Giant Food pharmacies at certain locations. When specific details are available, expect them to be posted here: https://t.co/0xrI2gpVc7

— Councilmember Andrew Friedson (@Andrew_Friedson) January 20, 2021
@holycrosshealth: https://t.co/CyaqdBeFwT@AdventistHC: https://t.co/P9QRyWkdBC

— Councilmember Andrew Friedson (@Andrew_Friedson) January 20, 2021