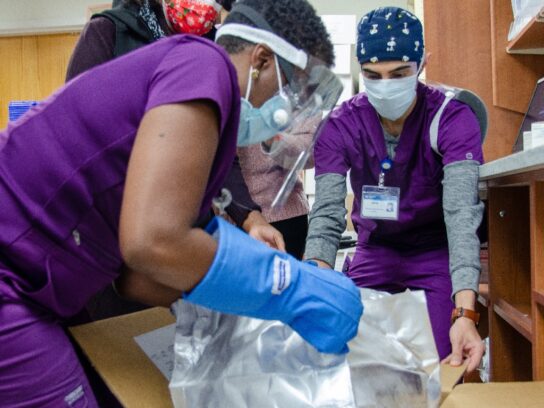 More than 2,000 ineligible people erroneously signed up to receive a COVID-19 vaccine from Holy Cross Health.
Holy Cross Health announced that on Dec. 30, the hospital system, which has locations in Germantown and Silver Spring, sent an email to employees with a link where they could sign up to schedule a time to receive the coronavirus vaccine. The signup link was through "Prepmod," the system Maryland is using for vaccine clinic registration.
The state of Maryland is currently in vaccine priority phase 1A meaning healthcare workers, first responders, and staff and residents at long-term care facilities are able to receive the available Pfizer and Moderna vaccines. Kristin Feliciano, the chief strategy officer for Holy Cross Health, said in a statement that the email was intended for staff in the 1A group.
An internal email about COVID-19 vaccination opportunities for staff only was broadly shared in the community leading to several external appointments that had to be canceled. Learn more: https://t.co/yTnHeOrWcs. pic.twitter.com/C7qb09cYaU

— Holy Cross Health (@holycrosshealth) January 3, 2021
"Unfortunately, one or many, forwarded their email to friends and family and now it is floating around the community at large," Feliciano said.
As a result, Feliciano said more than 2,000 people "signed up for spots that are meant for our healthcare workers, and that they never should have been eligible for."
Feliciano said following the incident Holy Cross Health has created a communications outreach plan geared toward community members at large, which emphasizes that there are currently only enough vaccines for people in the 1A group. The hospital system is also working with the state and Prepod to cancel appointments made by people ineligible to receive the vaccine at this time.
In the meantime, Holy Cross Health is continuing to proceed with its vaccination clinic for its medical staff.
More than 2,100 of our health care colleagues at greatest risk have been prioritized & given the opportunity to decide whether to get vaccinated against #COVID19. We are now in the process of vaccinating additional colleagues, including our President & CEO, Norvell V. Coots, MD. pic.twitter.com/AcUmt4TvHa

— Holy Cross Health (@holycrosshealth) January 5, 2021
Feliciano said in an email to MyMCM Monday that most of the ineligible people who signed up successfully received a cancellation for their erroneous appointment. On Monday, Holy Cross' vaccine clinic was busy for its healthcare workers, and "only a small handful of community members showed up."
"We regret the confusion caused by someone sharing a communication meant only for colleagues and active medical staff.  We are eager to work with the county and state on moving forward with expanded vaccination clinics, once the state opens eligibility and we finish vaccination of the 1A grouping – our colleagues and physicians," Feliciano told MyMCM.
According to Maryland Department of Health, as of Tuesday, 76,916 Marylanders have received the coronavirus vaccine, which is 1.27% of the state's population.
How Holy Cross Addressed Non-Eligible People Signing Up for Vaccines
Here's a look at the email message that was sent to Holy Cross employees after non-eligible community members started signing up for COVID-19 vaccine appointments:
On New Year's Eve, Holy Cross Health Chief Clinical Officer emailed their colleagues and active medical staff to remind them of their eligibility for vaccination and to encourage them to sign up for an upcoming clinic.  That internal email was shared by some with friends, family and our community at large.  At this point in time, Holy Cross Hospital and Holy Cross Germantown Hospital have only enough vaccine to take care of colleagues and active medical staff.  We are only vaccinating colleagues and active medical staff and not the community at large.

If you, or someone you know signed up for a Holy Cross clinic, please know that clinic has been canceled, community members who are not a colleague or active on the medical staff will not be vaccinated.  Everyone who signed up through a link in the State's Prepmod system should be receiving an email that their clinic has been canceled.

We understand and are grateful for the eagerness of the community to be vaccinated.  We are working with county and state officials to support that vaccination when the time comes.

Again, for now, Holy Cross will only be providing COVID-19 vaccinations for the CDC assigned group 1a colleagues and medical staff.