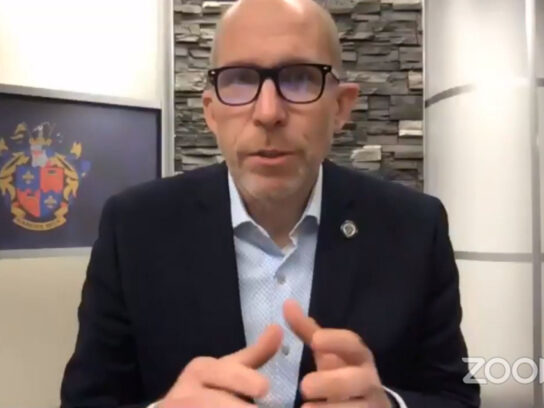 While on The Politics Hour with Kojo Nnamdi radio show, County Council President Tom Hucker said he thought Montgomery County should settle with the family of the East Silver Spring Elementary School student who was subjected to a barrage of verbal abuse from two Montgomery County police officers as school staff stood by.
"I think we should settle the lawsuit. These people were harmed," Hucker said, referring to the Jan. 14, 2020 incident in which the then-kindergartener fled his school after he broke a computer and hit another child with a clipboard, according to court documents.
The boy's mother filed suit against two officers, individually and as police employees; Montgomery County and the Board of Education.
During a 51-minute video from the police body cameras, which Hucker said has been seen around the world, the boy is shown crying and coughing as he is told repeatedly by Officers Dionne Holliday and Kevin Christmon that he should be spanked and is a bad boy. Some of the verbal abuse was leveled just a few inches from the boy's face. The boy also was briefly placed in handcuffs.
Both officers are still members of the department.
Because of this incident, Hucker said that a bill he has proposed to reform the police department requires that any internal investigation that concerns the use of force involving children, a potential criminal offense by a department employee, a fatality or serious bodily injury incident or a potential racial incident concerning members of the Montgomery County Police Department be immediately reported to and reviewed by the police chief, who then must "right away" inform the county council, county executive and the Montgomery County State's Attorneys Office.
Police Chief Marcus Jones and county officials were not made aware of the incident until the young boy's mother filed a lawsuit.
Hucker also said he wanted MCPD to issue every officer in uniform or displaying a badge to wear and operate a body camera.
Also during the show that was aired on WAMU, Hucker called Gov. Larry Hogan "out of touch with Maryland values," criticizing him for vetoing many of the bills passed by the state legislature this session. Hucker said residents will have to wait until next year for these bills on such topics as immigration, parole and police reform to be adopted into law.
Hogan cannot run for reelection, and Hucker strongly implied the next governor would be a Democrat.
When pressed, Hucker said he was running for reelection to the county council, but would not rule out a run for county executive.
"I like doing this work. I get good feedback," Hucker said. The only comment he made about the county executive job was to say, "We have a lot of candidates." Incumbent Marc Elrich is seeking reelection and will be facing – so far – Councilmember Hans Riemer and business entrepreneur David Blair.
Hucker also called on Washington Metropolitan Area Transit Authority (WMATA) to eliminate fares on its trains and buses for the short term as a way to bring riders back. He noted that the county will continue not collecting fairs on RideOn buses through September, adding, "I am hoping to continue it after that."
Related Post
'A Lot of Adults in the Room': Video of County Police, School Staff Interaction with Kindergartener Goes National