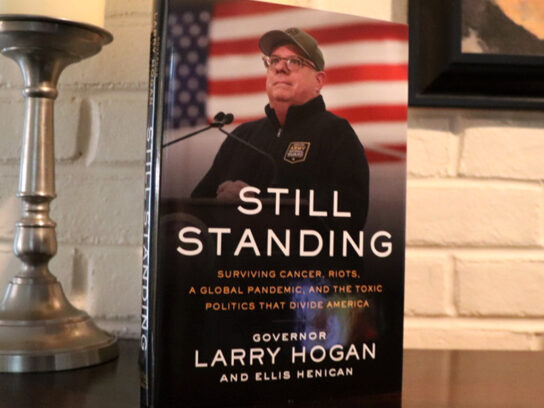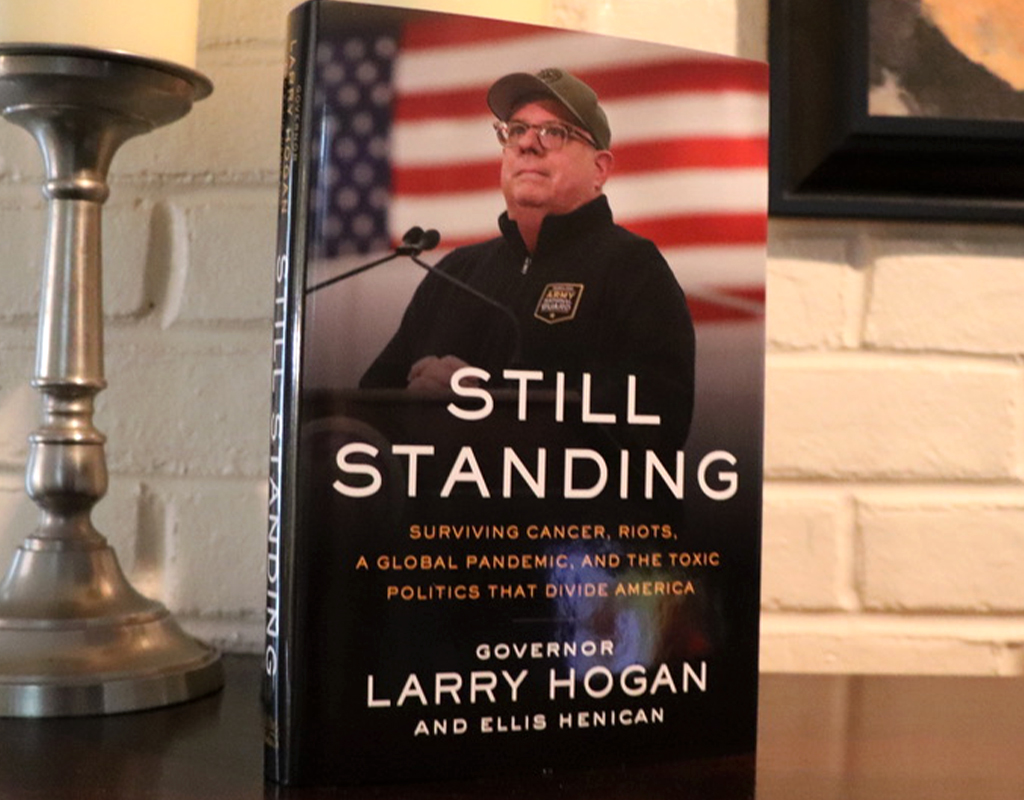 Gov. Larry Hogan's memoir "Still Standing: Surviving Cancer, Riots, a Global Pandemic and the Toxic Politics that Divide America" was released Tuesday. In the memoir, Hogan details his life from his childhood growing up in Maryland with a father who worked in politics to his experience battling the coronavirus pandemic as the governor of Maryland.
Hogan dedicates his memoir to three people who he says, "I fervently wish were still here": his mother, Nora; his father, Larry Hogan Sr.; and his older sister Terry, who he says, "I always wanted to be like when I grew up." During Hogan's first term as Maryland Governor, his life not only changed dramatically by serving in his first-ever elected position in the highest office in the state of Maryland, he was also diagnosed with stage 3 non-Hodgkin's lymphoma cancer, and two of those three people died—his father and his sister. Loss is ever-present throughout Hogan's life, but his experience losing loved ones and receiving his own life-threatening cancer diagnoses has helped him stay cool in the face of crisis.
After the death of Freddie Gray lead to riots and protests in Baltimore in April 2015, Hogan received advice from his friend, former New Jersey Gov. Chris Christie, which stuck with Hogan. "Besides just being the governor," Christie told Hogan, "you also have to be the consoler in chief." Recognizing people in Baltimore were scared, Hogan immediately became a physical presence in the city. He listened to residents and law enforcement officers, recalling one instance where an initially hostile conversation ended with a friendly selfie.
Hogan already had experience serving as "consoler in chief" as a teenager, when he learned of his parent's divorce and his father's infidelities, which—because his father was a U.S. congressman—were detailed in the Washington Post. Instead of finishing his high school career at DeMatha (which he attended at the time), Hogan moved to Florida at 15-years-old feeling obligated to protect his mother. "I couldn't stand the thought of her being alone," Hogan said.
Decades later in March 2020, Hogan was on a flight to Tampa to participate in a children's charity weekend with the Baltimore Orioles, when he learned that Maryland had its first three confirmed cases of coronavirus in Montgomery County. Hogan quickly changed his plans, like he did as a teenager, took a flight back to Maryland to be in his own state to declare a public health emergency. Hogan realized he approached the press conference announcing the first coronavirus cases in Maryland the same way he did when he announced his cancer diagnosis in 2015: "If you are transparent and let people know what's happening, give the straight facts hey will stand beside you through thick and thin."
Hogan recalls having to act as consoler in chief after learning of his own cancer diagnosis. After sharing the news with his wife, Yumi, he waited until Father's Day to share the news with their three adult daughters, and after that difficult conversation, he announced the news to the press.
"I actually noticed that several of the reporters were wiping away tears. They seemed to appreciate my frankness as I bare intimate details of the toughest challenge of my life," Hogan said.
Hogan said he approaches his handling of the coronavirus crisis in this same "transparent" manner. "But this time, I wasn't the only person whose health was at risk," Hogan said.
Related Posts:
Hogan Announces Virtual Book Tour Ahead of Release of 'Still Standing' Memoir