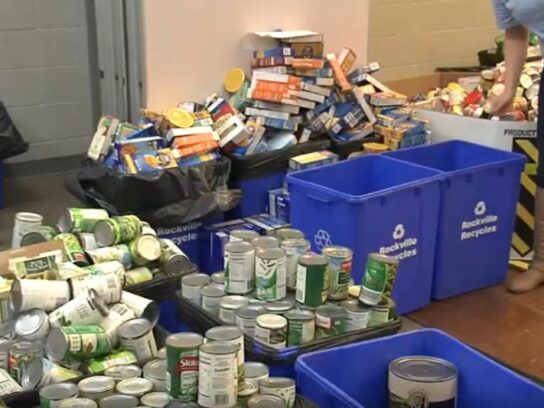 As winter holidays approach, many county institutions are hosting food, clothing and donation drives to give back to the community throughout December. Browse below for some of the ongoing holiday drives that hosted throughout Montgomery County this month.
Montgomery County Public Schools Winter Coat Drive
County schools' prekindergarten and head start offices are currently accepting donations of new coats, hats, gloves, scarves and boots for students in need. Donations for boys and girls in sizes 4-10 can be dropped off at Rocking Horse Road Center in Rockville between 9 a.m. and 3 p.m. Monday through Friday each week.
Participants can also order online and have items shipped directly to Rocking Horse Road Center. Residents can call 240-740-4530 with any questions about the annual winter coat drive.
Montgomery County Police Department Holiday Toy Drive
From Dec. 1 through Dec. 12, Montgomery County police will collect donations from local residents for their holiday toy drive. The department has partnered with UpCounty Hub – an organization that distributes food and essentials to families in need in upper Montgomery County – for the toy drive this year.
Residents can drop off toys at locations across each county police district. Locations for donations can be found at this link.
Montgomery County Coalition for the Homeless Holiday Giving Drive
The Montgomery County Coalition for the Homeless holiday giving effort looks to bring joy and hope through gifts, food and care to families and individuals. County residents can sign up on the coalition's website to donate gifts such as gift cards and holiday meals to families and individuals in need.
Residents can check the coalition's website for donation opportunities. Any gift card donations should be dropped off anytime between 9 a.m. and 4:30 p.m. Monday through Friday at 405 E. Gude Dr, Suite 209 in Rockville. Individuals can also mail gift cards to that address with attention to "Holiday Gifts."
To donate a holiday meal, residents can email meals@mcch.net. The coalition welcomes meals on or close to Christmas Day and New Years.
Rockville Holiday Drive
Rockville has operated an annual holiday food drive for nearly 50 years. This year, the drive will distribute food baskets and new toys to Rockville families in need. The drive is a partnership between local schools, churches, civic associations and individuals. Families and seniors in need receive the holiday baskets each year.
The drive relies on monetary contributions, donated food and new toys from these stakeholders. Participants can send a tax deductible contribution to the city of Rockville online or mailed to 111 Maryland Ave. in Rockville.
Residents can also organize a toy or book drive to collect new, unwrapped toys and books. Other accepted donations include $15 Giant Food gift cards and $25 Target gift cards. Participants can see a list of donation drop off locations for toys on the city's website.
The holiday drive runs through Dec. 12.