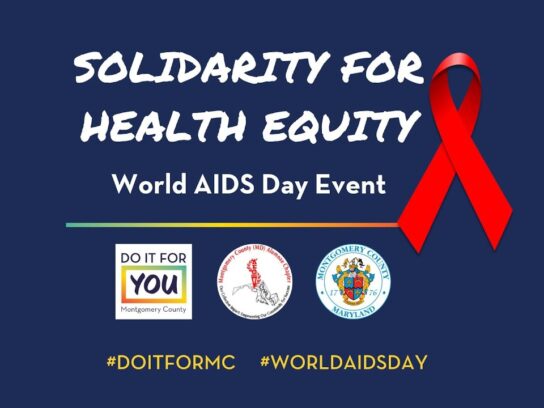 World AIDS Day was commemorated Thursday at the Silver Spring Civic Center with free HIV testing, awards to unsung heroes and a commitment to reduce new HIV cases in Montgomery County by 95% by 2030.
The theme of the breakfast was Reflect, Celebrate and Rejuvenate. Rather than have a moment of silence for those who have died from AIDS, HIV and other epidemics, attendees shouted out the names of their loves one who had passed away.
"The County's HIV epidemiological profile shows a need to address underlying racial/ethnic and other health disparities," said Laurie Ann-Sayles, the event's keynote speaker and councilmember-elect. "Montgomery County's Plan to End HIV must be grounded in health equity."
During the second annual World AIDS Day Solidarity for Health Equity breakfast, participants were urged to get tested for HIV and seek treatment right away if they test positive. They also were encouraged to help fight the stigma attached to those who receive a positive result.
Montgomery County is designated as by the federal government to reduce the HIV epidemic by 90%, according to Councilmember Evan Glass.
In 2021, there were 102 cases. In 2020, there were 77 new cases, and in 2019, there were 138 cases. The county's goal would mean there only would by 16 new cases diagnosed in 2030.