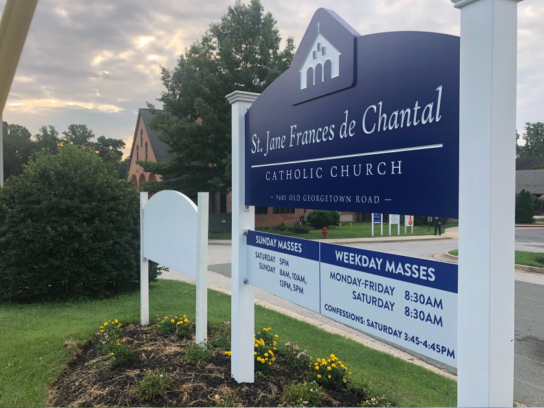 Investigators with Montgomery County Police and Montgomery County Fire and Rescue Services announced  that they have identified a person they believe is connected to the fires and vandalism at three churches along Old Georgetown Road in Bethesda.
The person is a juvenile and the matter is being handled in juvenile court, according to police.
The investigators believe there is no ongoing threat to the community in regards to these incidents which took place during the weekend of July 8-10.
St. Jane Frances de Chantal Catholic Church and North Bethesda United Methodist Church both were vandalized and damaged by fire. The cemetery adjacent to the Wildwood Baptist Church was vandalized. Twelve gravestone markers were turned over, damaged or broken at Wildwood Baptist Church. A wooden cross that the church uses during Easter was desecrated. It was pulled out of the ground and thrown onto the nearby Old Georgetown Road.
There was no structural damage at St. Jane Frances de Chantal Church. Some pews were damaged. Fires were set and the kitchen was damaged at North Bethesda United Methodist Church.
Related Post
Community Stands in Solidarity With Vandalized Bethesda Churches