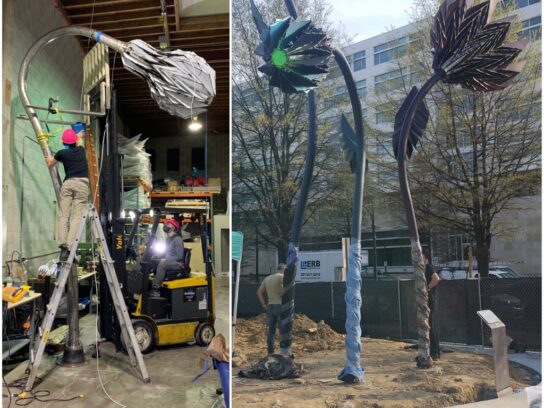 While there will be no official ribbon cutting or ceremony due to Thursday's cold weather, the 25-foot-tall interactive art display at the busy corner of Georgia Avenue and Colesville Road is complete and on display.
The flowers change colors and open and close based on cues from the National Weather Service that interface with the art's software. A person's voice will activate the art in the evening, and the installation is programmed to respond appropriately when a visitor calls out a color or flower.
The tall stainless steel flowers open at 8 a.m. and close at 10 p.m. The opening takes three minutes. Between noon and 12:30 p.m. and again around 6 p.m., the flowers will open and close.  The flowers start to light up at 5 p.m. and will stay lit until 6:30 a.m.
They are programmed to close when it rains or during high winds or when temperatures are close to freezing.
https://www.instagram.com/p/CNk3ZxmLSFE/
The The Blumen Lumen art installation is part of Downtown Silver Spring partners Peterson Companies and Foulger-Pratt's $10 million redevelopment of Downtown Siler Spring. The partners asked Jean Efron Art Consultants in Washington, D.C. to locate an artist that could create a bold statement and would uplift and engage the community, they explained in a news release.
Jean Efron Art Consultants then chose FoldHaus, which is located in San Francisco, to create the display. "Foldhaus builds experiences that are both poetic and robotic. Its art balances the tension between technology and nature, using engineering and design to bring origami to life," stated Paul Weinschenk, president of retail with Peterson Companies.
Noted Efron, "This is a high-traffic location in an arts community so we wanted something that would not only provide a huge 'wow' factor but also create a destination. This is a captivating piece of art."
As part of the installation, Adventist HealthCare launched a thank you campaign online that allows participants to purchase a "Bouquet of Gratitude" for a $25 donation to the Adventist HealthCare White Oak Medical Center Foundation. "This is an opportunity to pay tribute to healthcare workers at Adventist HealthCare," Weinschenk explained. "After the year they've had, we owe them our gratitude."
Related Post
Downtown Silver Spring's New Art Installation Features Two-Story High Flowers