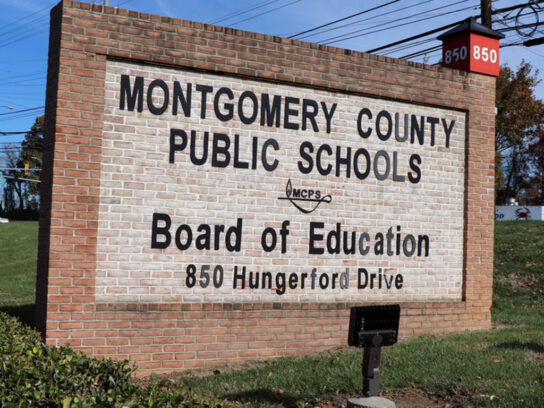 Eight candidates for the Montgomery County Public Schools Board of Education (BOE) vacancy will be interviewed beginning Nov. 30. A decision is expected at the BOE's Dec. 2 meeting.
Eighteen people applied to fill the District 3 seat that is vacant following the death of long-time member Patricia O'Neill. From that list, BOE members chose eight to interview. These candidates will be given questions from the BOE prior to their interview. The questions focus on the candidates' perceptions of the position, professional and civic experiences, priorities and understanding of the complexity of the work.
These are the candidates that have moved on to the interview stage.
Cynthia Anderson-Clay is director of development at George B. Thomas Sr. Learning Academy. She graduated from Morgan State University. Her two children are MCPS graduates.
Ana Sol Gutierrez previously served on the BOE for eight years, where she held the positions of president and vice president. She served in the Maryland General Assembly, representing District 18, from 2002 to 2018.
Scott Joftus has one child attending MCPS schools and another who is a graduate. He is the cofounder and president of FourPoint Education Partners, a consulting firm that works with school districts, boards of education and superintendents from across the country. He is an adjunct professor at George Washington's Graduate School of Education and Human Development.
Benjamin McDonough is chief counsel at the U.S. Department of Treasury, Officer of the Controller of the Currency. He received his law degree at the University of Michigan. His teenage daughter attends MCPS.
Neal Orringer is the founding president of Astro America, an applied science and technology research organization. He has worked on the staff of several U.S. senators as well as for the Secretary of the Defense. He is involved in the PTA.
Debby Orsak is a graduate of MCPS and all four of her children have attended or are still attending schools here. She is active with the PTA and has served on numerous MCPS committees. She is President of Cagley & Associates, Inc., a small minority-owned business in Rockville, whose practice is general structural engineering of buildings.
Vashti Van Wyke attended MCPS and has four children at MCPS. She is an attorney and received her law degree at the University of Pennsylvania. She is copresident of the Cabin John Citizens Association and vice-chair of the Western Montgomery County Citizens Advisory Board.
Julie Yang works at MCPS as its college and career coordinator and has been a member of MCPS Anti-Racism and COVID-19 advisory steering committees.
The 30-minute interviews are set to begin at 10 a.m. Nov. 30 at Carver Educational Services Center, 850 Hungerford Drive in Rockville and are open to the public. Reservations to attend are recommended.