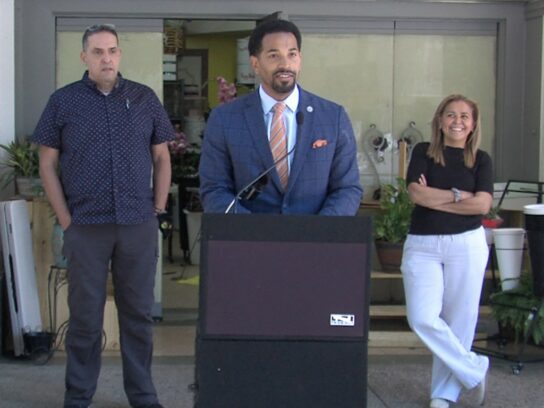 Montgomery County's new rental assistance program for small businesses will begin accepting applications Monday, May 17, councilmember Will Jawando announced at a press conference Thursday launching the program.
"This is a large part of our community," Jawando said. "Upwards of 60% of our small businesses have less than 10 people that they employ."
The Latino Economic Development Center (LEDC) will administer the program with the county's business advancement team.
See eligibility guidelines here. Small businesses must have made $500,000 or less annually prior to the COVID-19 pandemic and must be able to show revenue loss due to the pandemic. They can receive up to $10,000 for rent or three months' rent, whichever is less. According to LEDC, "Restaurants, food service businesses, medical practices, professional services, religious organizations, and daycare businesses are ineligible, per county guidelines."
Small businesses will be able to apply through the LEDC website starting Monday. They have one week to apply, with May 24 being the last day. Businesses with additional questions can email sbra@ledcmetro.org, said Javier Rivas, Resilient Business Corridors Program Manager with LEDC.
Jawando spearheaded the $1 million appropriation that is funding the program. It was unanimously approved by the county council last month.
Thursday's press conference was held outside Roxana Multiservices and Flower Shop on Flower Avenue in Silver Spring. Roxana Basques, who owns the store, said it has been a difficult year for her business and that she is looking forward to participating in the program.
Jawando said her store is a perfect example of a business that will benefit from the program. He said many small businesses are owned by women and people of color.
"We know that if a retail business— a small business has to close their doors, and can no longer be where they are, that takes a lot of rebuilding to get people to know that you're back or that you've moved and many businesses just can't sustain that," Jawando said.
He said storefront retail has had a particularly hard time during the COVID-19 pandemic.