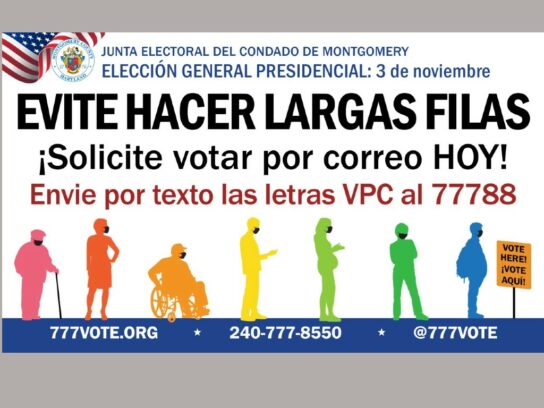 El proceso de elecciones generales de 2020 tendrá un aspecto diferente en comparación con años anteriores debido a la crisis de salud de COVID-19. La Junta Electoral del Condado de Montgomery está proporcionando información, en inglés y español, para ayudar a que la votación sea lo más fácil y segura posible para los residentes, el 3 de noviembre.
Durante la conferencia de prensa el 22 de julio, el gobernador Larry Hogan dijo que la próxima elección "sería una elección completa con la mayor cantidad de opciones posibles". Mientras tanto, el martes, el Concejo del Condado de Montgomery pidió que las elecciones generales se celebraran principalmente por correo en Maryland e instó al gobernador Hogan a cambiar el rumbo de la votación en persona.
El Dr. Gilberto Zelaya, Oficial de Información Pública de la Junta Electoral del Condado de Montgomery, dice que el condado tiene un desafío para encontrar trabajadores electorales debido a COVID-19. Esto significa que los recintos electorales podrían consolidarse, lo que puede dar lugar a filas más largas en algunos lugares de votación en el condado. Zelaya agregó que se recomienda a los residentes votar por correo.
MyMCMedia habló con el Dr. Zelaya sobre el proceso de votación por correo, la necesidad de contratar jueces bilingües, el rumor que ronda en redes sociales sobre la deficiencia del correo, entre otros:
Mientras tanto, el jueves 30 en su cuenta de Twitter, el Presidente Donald Trump expresó que, cree que las elecciones de noviembre serán las más inexactas y fraudulentas de la historia al realizarse con el voto universal por correo.
Trump incluso planteó la posibilidad de posponer las elecciones: dice que esto "Será una gran vergüenza al país. ¿Retrasamos la elección hasta que la gente pueda votar apropiada y seguramente?".
With Universal Mail-In Voting (not Absentee Voting, which is good), 2020 will be the most INACCURATE & FRAUDULENT Election in history. It will be a great embarrassment to the USA. Delay the Election until people can properly, securely and safely vote???

— Donald J. Trump (@realDonaldTrump) July 30, 2020
Según las leyes de Estados Unidos para poder cambiar la fecha de las elecciones sólo puede ser aprobado por la Cámara de Representantes y el Senado. El presidente del país no tiene el poder para posponer las elecciones, de acuerdo con lo que establece la Constitución.
¡REGÍSTRESE PARA VOTAR HOY!

Envie mensage de texto con la palabra VOTA al 77788; o

En línea; ohttps://t.co/LjH4G6lWoB

Por correo postal https://t.co/JrEfFF1kk2#SuSaludSuVozSuVoto #ComparteEsteMensajeNoCOVID19 pic.twitter.com/dE74acEb2N

— MontgomeryMDVotes (@777Vote) July 31, 2020
Fechas de elecciones generales presidenciales de 2020:
Votación anticipada: 22 de octubre de 2020 – 29 de octubre de 2020
8:00 a.m. a 8:00 p.m.
Día de las elecciones: 3 de noviembre de 2020 de 7:00 a.m. a 8:00 p.m.