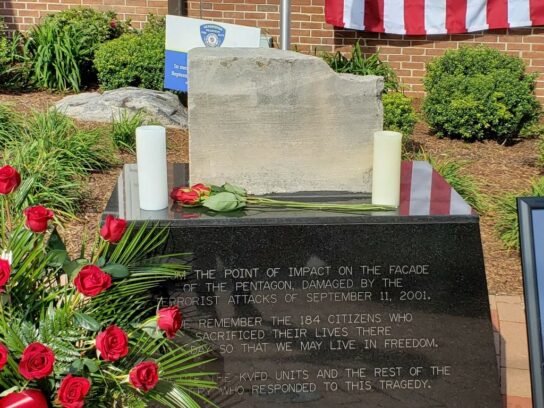 Former Kensington Volunteer Fire Department Chief James Stanton recalled the morning of Sept. 11, 2001, vividly. He was at the fire station on Connecticut Avenue when someone alerted him that a plane had flown into the World Trade Towers in New York City.
As he stood near a large piece of metal retrieved from the 93rd floor of the North Tower, a damaged piece of limestone from the Pentagon and a memorial to lives lost in Shanksville, Pa, where a third plane crashed, Stanton recalled memories that will never go away.
Swinging into action that morning, he contacted all Kensington FD volunteers and asked them to come to the station. He worked out how many fire fighters could fit in each of the station's vehicles and strove to prepare to be ready if needed. The call came quickly. Kensington FD was chosen to cover the night shift at the Pentagon and asked to bring a ladder truck and an EMS unit.
"Everyone, everyone down to the last person wanted to go, but I could only send so many," Stanton recalled. As he checked on an ambulance designed to hold four rescue personnel, he counted 12 volunteers all squeezed in together. He just slammed the door and sent the vehicle on its way, he said.
The volunteers were asked to set up lights around a still-smoldering Pentagon area, help with search and rescue and secure the scene so no one would get too close and no evidence would be destroyed.
They returned the following night. "I will never, ever get over my pride of the members of this department," he said, many of whom attended the one-hour commemoration.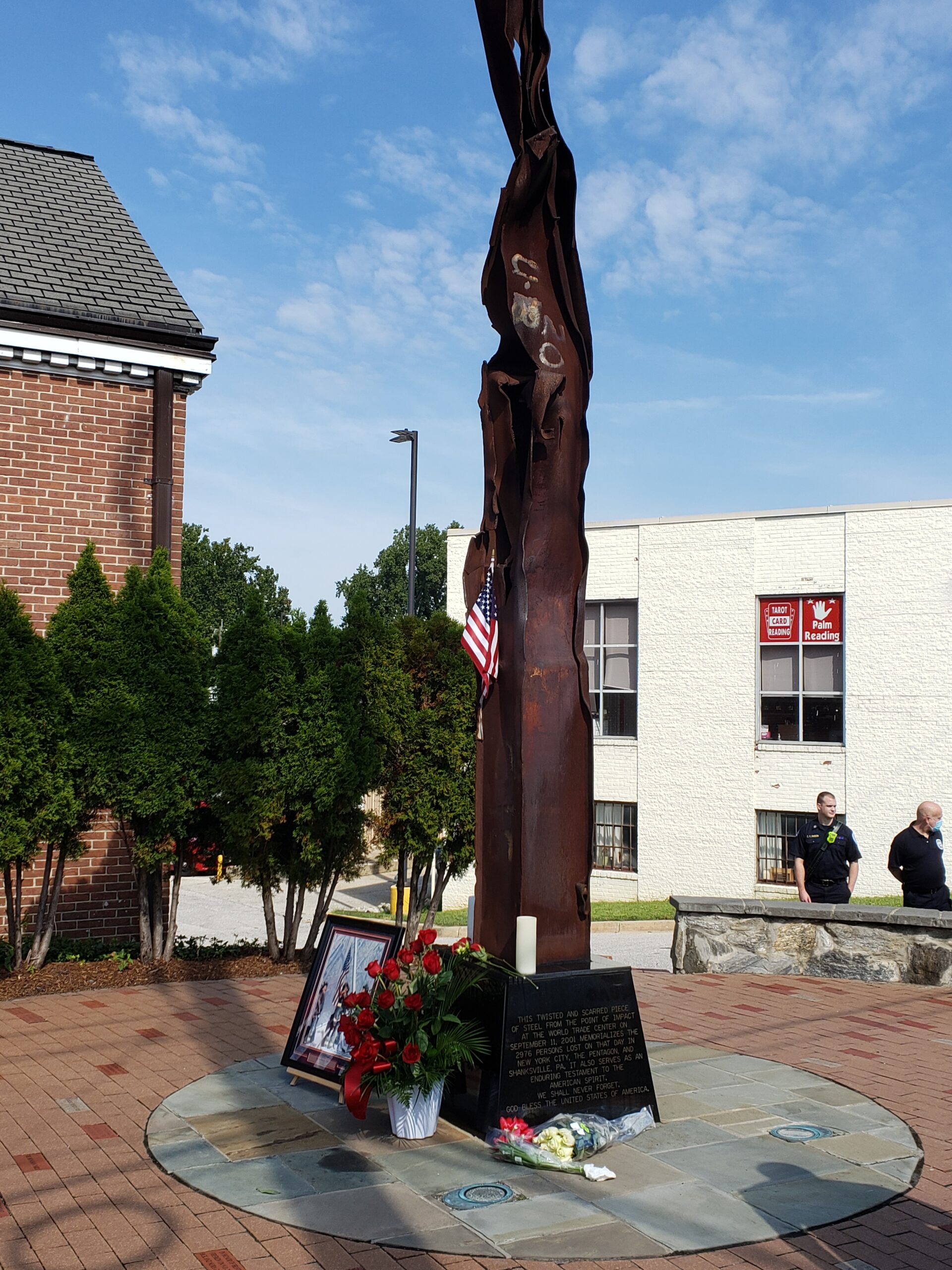 Montgomery County Fire Chief Scott Goldstein, who started as a volunteer with the Kensington FD, also assisted at the Pentagon. He praised those in attendance who answered the call on 9/11 and also those who continue to answer the 350 emergency calls Montgomery County Fire and Rescue Service personnel go out on each day.
U.S. Sen. Chris Van Hollen, a Kensington resident, called 9/11 "one of the darkest days in American history." After praising those who assisted at the Pentagon, Van Hollen declared, "I am enormously fearful that that sense that rallied us [together], is no longer with us." Pointing to the Jan. 6 invasion of the U.S. Capitol, Van Hollen said, "I worry that we are doing to ourselves what Al Qaeda could never do, and that is divide us."
He urged everyone to work together to unite the country as they did following 9/11. "Let's do it again together," he said.
Also addressing the crowd was former CIA Chief of Staff Jeremy Bash, who gave a detailed account of this country's efforts to kill Osama bin Laden, reciting the names of the CIA agents who were killed during those efforts. He explained how the CIA kept a close eye on a fortress that refused to reveal clues. Noting that bin Laden was tall, the agents measured shadows, only to determine that the man in there was somewhere between 5-foot 2 inches and 6-foot 9 inches, he said.
Kensington Mayor Tracey Furman told those gathered, "Here in Kensington, we have a place to go, and we will never forget."
Previous Posts:
Kensington Volunteer Fire Department to Hold 9/11 Ceremony on 20th Anniversary 
Kensington Volunteer Fire Department Adds Plaque Honoring Shanksville Victims for 9/11 Memorial