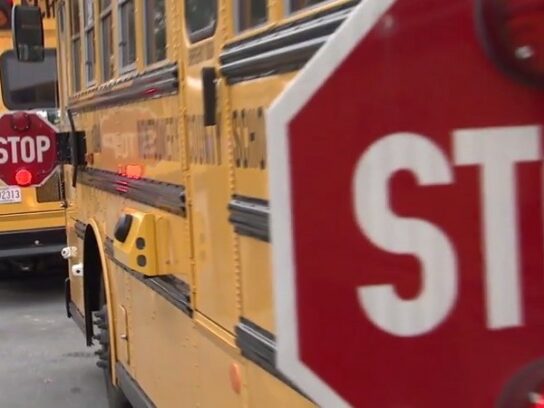 The number of citations issued for passing a stopped school bus in Montgomery County this calendar year is close to surpassing the total number in 2021, according to the Montgomery County Police Department (MCPD). 
There were 36,717 citations issued by police last year. Between Jan. 1 of this year to Sept. 20, there have been 36,138 citations issued, the department shared Wednesday. The total number in 2020 was 17,316.
Per Maryland law, all vehicles must stop at least 20 feet from a school bus when the bus is flashing red lights or the stop sign emerges. On all roads except divided highways separated with a median, drivers must stop in both directions regardless of how many lanes there are. On multi-lane roads divided by a median, only drivers following the bus must stop.
A camera-generated fine is $250, but that fine may be increased in court to $500, and a citation from an officer is $570 and carries three driver's license points.
"We are reminding you to stop for school buses," MCPD wrote on Twitter on Wednesday. "Please remember to stop at least 20-ft. away from the school [bus] when the red flashing lights are activated."
The number of citations issued this year is almost surpassing the total number of citations issued in '21.

We are reminding you to stop for school buses. Please remember to stop at least 20-ft. away from the school when the red flashing lights are activated. #MCPNews pic.twitter.com/KRYKg164mY

— Montgomery County Department of Police (@mcpnews) September 21, 2022
Related Post: