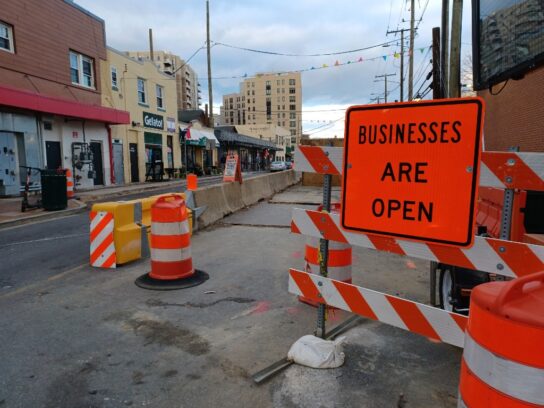 Montgomery County leaders announced a grant program for small businesses that have suffered revenue loss due to Purple Line Light Rail construction. 
"For those of us who live, work and commute along the Purple Line, we've seen what the impact has meant," Councilmember Evan Glass said during a press conference Monday outside of the Silver Spring Library near construction. "We've seen the lack of parking, we've seen the road work that's been done. And because of COVID[-19] and some of the other economic situations, we've seen businesses close."
Businesses will receive $207,900 in direct relief under the program, according to council documents. $23,100, which is 10% of the total $231,000 appropriation from the state Department of Commerce, will be used for program administration. The maximum available grant is $5,000 per business. The appropriation will be introduced during a county council meeting Tuesday, said Glass, the council lead sponsor. A public hearing is scheduled for Dec. 14.
The Latino Economic Development Center (LEDC) will administer the program. About 40 businesses in Montgomery County will benefit, LEDC Program Manager Javier Rivas said, and the program will be a lottery system. The application portal opens Wednesday, Dec. 1 until Dec. 10 on the LEDC website. Applications are online only, however staff is available to help those who need it. 
Businesses must have been established before Aug. 1, 2017 in order to be eligible. Rivas said the application will not require businesses to upload documentation, however they must be in good standing with the State Department of Assessments and Taxation. Del. Jheanelle Wilkins (District 20) said next week legislators will try to override Gov. Larry Hogan's veto of a bill that would provide another $2 million to businesses. Lene Tsegaye, co-owner of Kefa Cafe near the Silver Spring Library, voiced her support for delegates to override Hogan's veto.