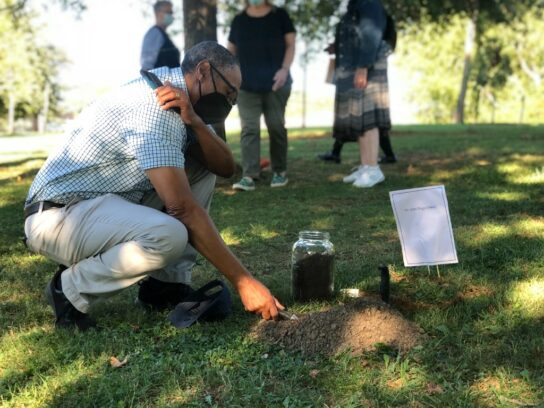 The Montgomery County community gathered Sunday in Rockville to memorialize two Black men who were lynched in the late 1800s.
John Diggs-Dorsey was lynched in 1880 and Sidney Randolph in 1896, according to Montgomery History documents. Diggs-Dorsey was accused of assault in 1880 and was in jail when a white mob took him and lynched him. Randolph was accused of a fatal attack in 1896; a mob dragged him from the Rockville jail and lynched him.
Leaders and residents joined a remembrance walk and soil collection ceremony to remember these men.
The remembrance walk began by the county council building, where a county jail once stood and where Diggs-Dorsey and Randolph were held before they were killed. Participants completed their route at Welsh Park, which is near the halfway point between the two areas where Diggs-Dorsey and Randolph were lynched. Residents solemnly lined up to scoop soil into jars in honor of both men. The soil was taken from the park and the nearby areas where the killings occurred.
One jar for each victim will go to the Equal Justice Initiative's Legacy Museum in Alabama, where jars from other counties will also be held. Jars will also go to Montgomery History, the Menare Foundation and Jim Stowe, director of the county's Office of Human Rights, on behalf of the Montgomery County Remembrance and Reconciliation Commission. The jars will be used to educate the public about the painful legacy of racial lynching in the county.
The Montgomery County Lynching Memorial Project and the County's Remembrance and Reconciliation Commission hosted Sunday's events.
[hr]
Previous Post:
Remembrance Walk, Soil Collection Ceremony Memorialize Two Victims Lynched in Rockville