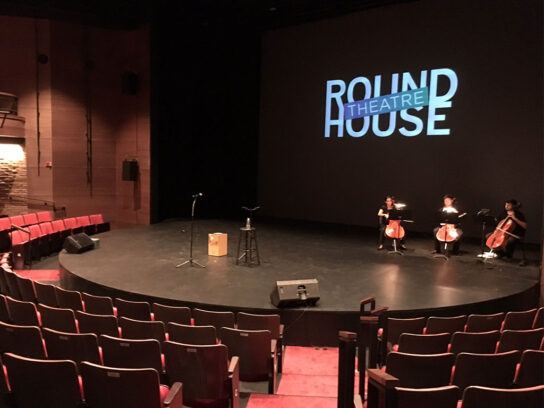 Live theater productions and concert venues have begun to reopen with in person shows in Montgomery County.
The Round House Theatre in Bethesda currently offers virtual performances of We're Gonna Die, which will be their last online event, according to their box office. They will be reopening for in person performances in September, starting with Quixote Nuevo on Sept. 8.
"We are connected to the entire world through the shared experience of the pandemic," Artistic Director Ryan Rilette said in a press release. "That is the logic of this season: we are welcoming audiences back to live performance with a theatrical journey around the world."
We are thrilled to welcome audiences back into our theatre with a slate of shows designed to transport audiences around the world! Explore our unforgettable 44th Season and subscribe today for the lowest price. -> https://t.co/DH23arjILD pic.twitter.com/4PQyUOdIT8

— Round House Theatre (@RHT_roundhouse) July 1, 2021
The Adventure Theatre in Rockville will have its first in person show since before the pandemic on July 10 for a preview and July 11 for its opening night of Fairy Tales in the Sun, according to their website. This performance will include two one-act plays by DMV area playwrights: The Flood in the Future by Lyra Yang and From Cinders to Ella by Michelle Lynch. 
The theater will require masks because its target audience is not eligible for COVID-19 vaccines yet.
The Olney Theatre Center opens its doors with live shows, starting with A Midsummer Night's Dream from July 2 to July 11, according to their website. This show will be performed by the National Players. 
We're excited for the return of live performance next week.
We're excited to stretch, change, and grow.
We're excited for the future: next week, next month, next year.https://t.co/qXmGd8t8po

— Olney Theatre Center (@OlneyTheatre) June 22, 2021
Strathmore will present live in person performances on its Patio Stage outdoors, according to their website. The area includes socially distanced tables for four. Upcoming performances feature Wynton Marsalis, The Lone Bellow, Sophia Rei, and Oliver Wood.
Are you ready for a good time? Montgomery County, Maryland is the place to get out and experience live music, outdoor theatre and inspiring art exhibits all summer long! ➡️https://t.co/XEGezgcYTg #montgomerymoment Be Open for it. pic.twitter.com/RMbbyv2vQD

— Visit Montgomery, MD (@VisitMoCo) June 29, 2021
The Fillmore in Silver Spring starts in person performances on July 3, beginning with the Backyard Band & Black Alley. Masks will be required at their events except when eating or drinking.