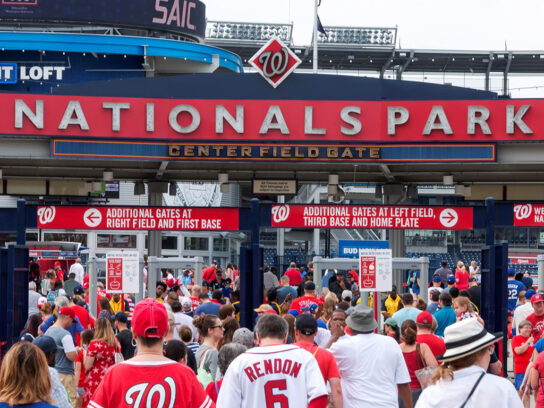 Trying to find a place to watch the Washington Nationals in the World Series this week? There are several options in Montgomery County. Here are just a few:
Matchbox, located at 1699 Rockville Pike is offering Happy Hour priced food and drinks to anyone wearing Nationals gear.
Quincy's South, located at 11401 Woodglen Drive in Rockville is offering Gerardo Parra "baby shark" themed sliders and Howie Kendrick inspired nachos. Additionally, they will be offering bottle buckets and pitchers during the games.
The Barking Dog, located at 4723 Elm. Street in Bethesda is having Happy Hour specials until the end of the game. $5 pint-sized rail drinks, $10 pitchers of select beers.
Brickside Food & Drink, located at 4866 Cordell Avenue in Bethesda is offering food and drink specials through the whole World Series.
DoubleTree by Hilton, located at 620 Perry Parkway in Gaithersburg, is hosting a series viewing party tonight starting at 6 p.m.
The Nationals offered free tickets on the team's website to watch the first two games – which are in Houston – at Nationals Park but those have already sold out.  If the World Series goes 6 or 7 games, fans will have a chance to go to Nats Park to watch those games on the jumbotron with tens of thousands of their closest friends. Those tickets will be free but fans must register for tickets through the Nationals.com.