El Sapo Cuban Social Club in Silver Spring is feeding seniors citizens in need.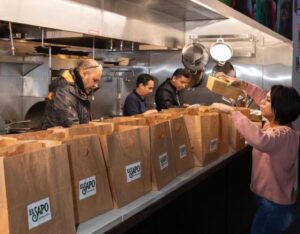 Life as we know it has changed since the recent coronavirus outbreak, and senior citizens are more at risk than the general population. Health officials have asked everyone including the vulnerable population to stay home, and limit social interactions.
That's why El Sapo Cuban Social Club donated meals to residents who live in The Bonifant apartments located in downtown Silver Spring.
"I am a human being. This community has been very good to me. It is the least we can do," said El Sapo Cuban Social Club owner, Raynold Mendizábal.
Constructed by Montgomery Housing Partnership, The Bonifant apartments offer affordable housing. It is home to 170 seniors, many with disabilities. Residents who are the most vulnerable have been prioritized to receive the donated food.
"It is really heartwarming to see our community respond to this crisis in so many innovative ways," said Montgomery County Silver Spring Regional Service Center Director Reemberto Rodríguez.
The Bonifant resident Jan Brown says the others were thrilled to receive meals from El Sapo. "That is where we go to celebrate" in normal times, she noted.
Residents that were recruited by Brown to volunteer sanitized their hands before delivering the food to individual apartments.
Officials say The Bonifant has been taking many steps to protect its residents while following protocols recommended by the US Centers for Disease Control and Prevention. Weekly social gatherings have been cancelled, and onsite staff is cleaning regularly.
Brown says that some of her neighbors have limited family and other support systems, so neighbors have been helping neighbors.
"Yesterday a neighbor gave me her phone number because she is able to share with someone in need," she said. "This virus situation is a bad thing. However, it shows you who people really are. There are beautiful people here at The Bonifant."
Mendizábal says he plans to continue providing meals, which will be funded mainly through profits from his restaurants' takeout and delivery services. He noted that while he and his staff are still working, they are following new Maryland restrictions by limiting social interactions to combat the spread of COVID-19.
If you are interested in getting involved in this or creating a similar community-based effort, contact Mendizábal at 202.246.5083 or raynold@elsaporestaurant.com.