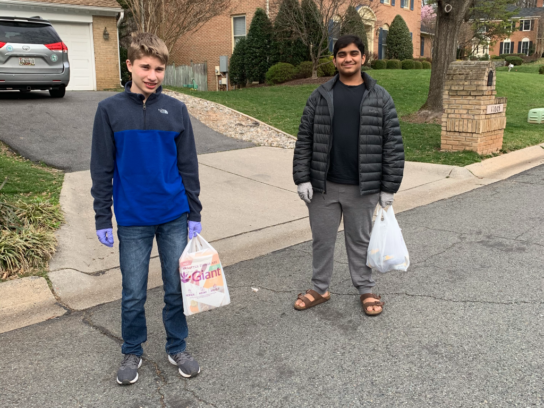 A group of local teens have taken matters into their own hands when it comes to helping the vulnerable population during the coronavirus outbreak.
"Teens Helping Seniors" is an organization that aims to provide no-contact grocery deliveries to senior citizens, and those who are at risk of going outside during these troubling times.
Montgomery Blair High School sophomore Dhruv Pai says he started the organization when he saw a need that hit close to home. His grandparents were scared to leave their home to go grocery shopping, so he offered to help. That's when he realized other people might be in a similar situation.
Matthew Casertano, also a sophomore at Montgomery Blair High School, says he saw a great need in the community as well and that's why he teamed up with his good friend Dhruv.
The organization is made up of five teens from three different high schools throughout the county. So far, they've made about a dozen deliveries. However, they say due to high demand, there's a need for more teens to join.
It doesn't stop there, they say young adults are welcome to join the movement as well.
Pai says they will continue to volunteer their time withTeens Helping Seniors throughout the next couple of weeks, or longer depending on how long schools are closed.
Anyone who wishes to volunteer with Teens Helping Seniors is asked to email teenshelpingseniors@gmail.com.
Here's a list of other volunteer opportunities in the county.