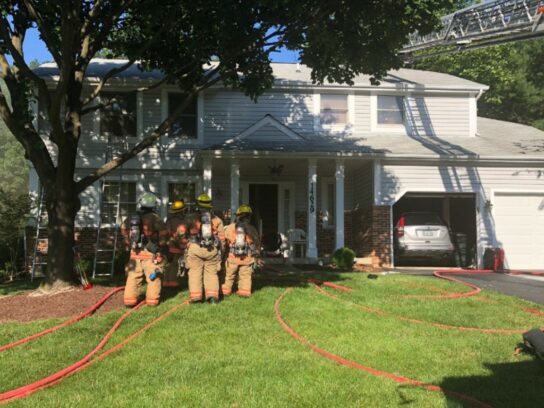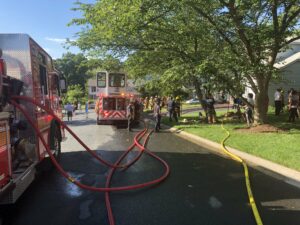 Two people have been displaced after loose batteries caused their two-story North Potomac home to accidentally catch fire.
Montgomery County Fire and Rescue Services (MCFRS) responded to the house in the 14600 block of Settlers Landing Way at around 5:30 p.m. Wednesday. According to Pete Piringer, spokesperson for MCFRS, the fire originated in the kitchen, started by a basket of loose batteries in one of the base cabinets when a 9-volt short circuited. The fire then broke through the cabinet and extended upward. Approximately 50 firefighters were on the scene. No one was injured. Damages are estimated at over $80,000.
According to officials, 9-volts have been known to cause fires. The batteries are a common household item, but can easily become dangerous when their positive and negative posts touch metal—unintentionally shorting them out.
Update (~530p 6/24) Settlers Landing Way, N Potomac; 2-sty SFD; Area of Origin, kitchen, base cabinet (fire breached cabinet & extended up the face of cabinetry); Cause, accidental, possibly caused when loose batteries inside cabinet shorted out; Damage, >$80K; 2 adults displaced https://t.co/HUhJP4BGkk pic.twitter.com/Ofy3ap2lAB

— Pete Piringer (@mcfrsPIO) June 25, 2020
14 600 Settlers Landing Way, Dufief Mill Estates, N Potomac, 2-sty House https://t.co/AeTBYjmKpT

— Pete Piringer (@mcfrsPIO) June 24, 2020
DYK – 9 volt batteries are known to start fires due to the fact that they can inadvertantly be shorted out when the positive & negative post contact, damage was estimated to be >$80K, no injuries, 2 a CD

— Pete Piringer (@mcfrsPIO) June 25, 2020