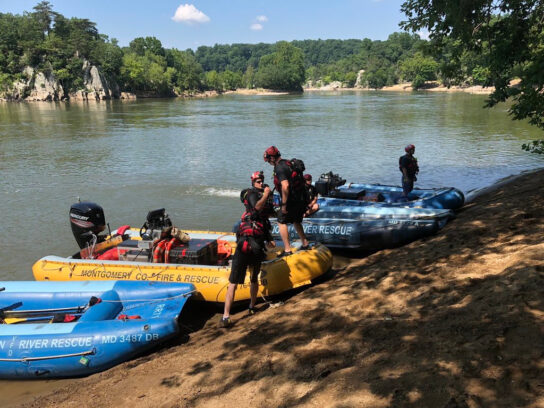 Montgomery County Fire and Rescue is continuing its search for a man who jumped off a cliff and into the Potomac River on the Virginia side Sunday at 5:30 p.m.
The missing swimmer is presumed drowned, according to Pete Piringer, chief spokesperson for MCFRS
Tuesday morning and then again Tuesday afternoon, the county's swift water rescue boats and crews searched for the young man, who was reported missing by his friends.
The young man never resurfaced after jumping into the water, according to his friends, who tried unsuccessfully to rescue him, Piringer said.
The incident took place south of Great Falls.
Swimming is prohibited in that area, because the water is cold and the current is so strong, Piringer said.
"It looks very serene, very peaceful, very calm, but it is not," Piringer said in a Twitter video.
MCFR crews searched Sunday night until sunset and most of the day Monday as well.
SEARCH Update (6/2) @mcfrs Swift Water Rescue boats & crews spent several hours on the Potomac this morning searching for a missing swimmer/presumed drowning victim (5/31) – relief crews will be conducting a systematic search again this afternoon https://t.co/4wuZIANaJP pic.twitter.com/xCylMNUVMg

— Pete Piringer (@mcfrsPIO) June 2, 2020