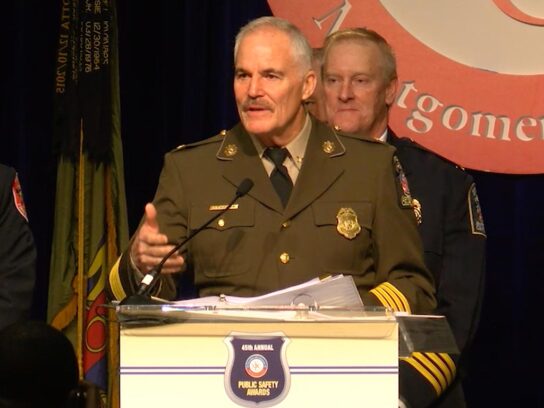 The day before the one-year anniversary of the Jan. 6 breach of the U.S. Capital, former Montgomery County Police Chief Thomas Manger testified before a U.S. Senate committee hearing about the readiness of the U.S. Capitol Police, which he now heads.
Manger, who has been the U.S. Capitol Police Chief since July 2021, reassured the senators that the department is better now than it was one year ago due to increased daily reporting, a new 100-member bicycle team and a strengthened Civil Disturbance Unit.
His office is close to implement the vast majority of more than 100 recommendations it received following the rioting.
"If January 6 taught us anything, it's that preparedness matters," he told committee members.
Manger, who served as the chief of MCPD from 2004-2019, tweeted on Wednesday, "January 6, 2021, was a day unlike any other in our nation's history. And for the Capitol Police, it was a day defined by chaos, tragic loss, courage, and resolve. Our brave men and women have persevered through a very challenging year, and we appreciate their service and thank them for their continued commitment to our critical mission."
— U.S. Capitol Police (@CapitolPolice) January 6, 2022
Today U.S. Capitol Police Chief Tom Manger testified about the many improvements we have made, and continue to make, since January 6, 2021.

VIDEO: https://t.co/QRHtoGf9Sl pic.twitter.com/wf5LFatdiC

— U.S. Capitol Police (@CapitolPolice) January 5, 2022