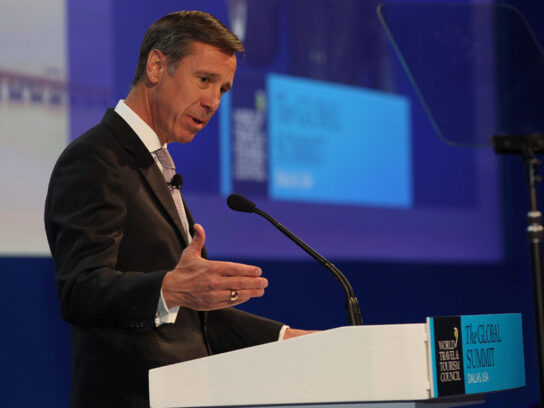 The J. Willard and Alice S. Marriott Foundation announced the establishment of a $20 million endowment at Howard University in memory of its former CEO, the late Arne M. Sorenson, who was president and CEO of Marriott International and a Chevy Chase resident. Sorenson died Feb. 15.
The endowment will be used to create the Marriott-Sorenson Center for Hospitality Leadership at the historically Black college in Washington, D.C. Marriott, which is headquartered in Bethesda, donated $1 million for the creation of the Arne M. Sorenson Hospitality Fund to support programs and career development at the new center.
"I can think of no better tribute to the amazing legacy of Arne Sorenson than to focus on educating and advancing future leaders of the hospitality industry," J.W. "Bill" Marriott, Jr., executive chairman and chairman of the board at Marriott International, said in a news release.
"Arne's passion for creating a culture of opportunity brought real change in the executive ranks of our company. But work remains to be done. Our industry needs a pipeline of diverse leadership talent and that's exactly what this Center will achieve," Marriott, Jr. said.
Howard University President Wayne A. I. Frederick welcomed the gift, noting, "Lack of diversity in the executive ranks of companies across America has long been a headline and has been further elevated in the national conversation as we are in this important moment of racial reckoning."
The Center will feature access to top hospitality executives and industry leaders. The Center's advisory council members will serve as guest lecturers and mentors and provide hands-on learning opportunities for students, according to the news release.
Sorenson was the third CEO in Marriott's history and the first who didn't have the Marriott surname, according to the company's announcement.
"Arne was an exceptional executive – but more than that – he was an exceptional human being," Marriott, Jr. said in the company's announcement. "Arne loved every aspect of this business and relished time spent touring our hotels and meeting associates around the world. He had an uncanny ability to anticipate where the hospitality industry was headed and position Marriott for growth.
The J. Willard and Alice S. Marriott Foundation together with @HowardU announce the establishment of the Marriott-Sorenson Center for Hospitality Leadership. https://t.co/b2VnBwHlfB

— Marriott International (@MarriottIntl) February 24, 2021
The J. Willard and Alice S. Marriott Foundation together with Howard University announce the establishment of the Marriott-Sorenson Center for Hospitality Leadership.

— Howard University (@HowardU) February 24, 2021
Related Post